Things You'll Need
2 large boneless skinless chicken breasts

3 tbsp. of olive oil

1/4 cup of butter

1/3 cup grated Parmesan cheese

3/4 cup heavy cream

8 oz. can cream of mushroom

1 lb. fettuccine

Water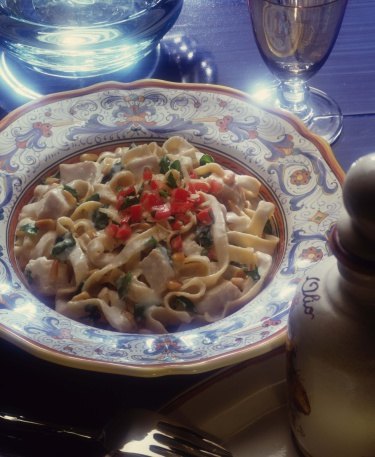 Chicken Alfredo is known for three main ingredients: chicken, cheese and pasta. One way to make your chicken Alfredo more tasty is to use cream of mushroom soup in the recipe. Not only will it add flavor, but a thicker consistency to the sauce. Knowing and using the right mix is important in order to not overwhelm the chicken Alfredo with a taste of mushroom. From start to finish, you should be done creating your meal in under 45 minutes.
Step 1
Heat the olive oil in a skillet while cutting the chicken breasts into 1/4 inch wide strips. Fry the chicken strips over medium heat until cooked through.
Step 2
Melt the butter in a saucepan over medium heat. Add the heavy cream, cream of mushroom soup and cheese to the saucepan, turning the heat down to low.
Step 3
Boil 3 qt. of water in a pot. Add the fettuccine and boil for eight minutes and taste to see if it is done. Test again every minute until satisfied; do not cook it over 12 minutes. Drain.
Step 4
Mix the chicken and sauce in a large bowl. Pour the fettuccine into another bowl. Serve with the chicken and sauce mix poured over the fettuccine.