Things You'll Need
Drill or screwdriver

Hammer

Scrap piece of wood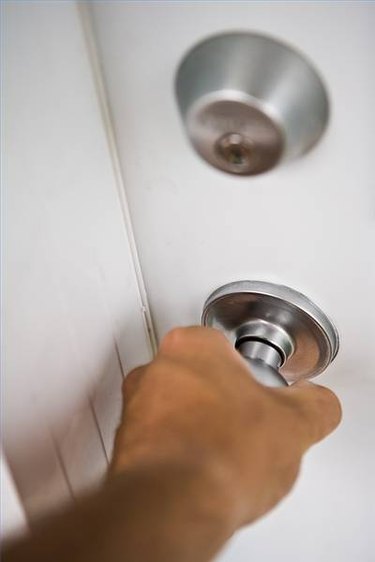 Kwikset dealbolts are easy to install and offer a high level of security. Kwikset offers deadbolts and locksets that feature varying levels of security for light commercial and residential applications. Visit the company's website (see Resources) for information about the styles and finishes offered.
Step 1
Remove all of the deadbolt lock pieces from the package and make sure all the parts are there. Place the latch mechanism through the hole in the side of the door and seat it into place. If necessary, use a piece of scrap wood and a hammer to seat it completely. Place the piece of scrap wood over the latch mechanism and push the latch into the mechanism with the wood. Hold the wood in place with one hand and pound on the wood until the latch sits flush with the side of the door.
Step 2
Screw the latch mechanism into the door through the two holes in the latch plate on the side of the door.
Step 3
Feed the anchor fittings through the holes in the latch mechanism from the outside of the door.
Step 4
Place the thumbturn piece against the inside of the door. Line up the holes in the thumbturn side with the anchor fittings and place the mounting screws through the thumbturn side. Tighten the mounting screws with a screwdriver. Attempt to move the deadbolt in the door to be sure it is mounted tightly. If the deadbolt lock moves around, tighten the mounting screws more.
Step 5
Place the strike plate into the cutout in the door jamb. Mount the strike plate with the provided screws and a screwdriver.