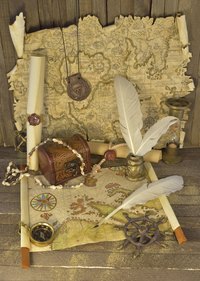 Encourage the kids to set aside their keepsakes in a classic treasure box. Made with construction paper, this treasure box is a perfect place to hide your little pirate's booty.
Things You'll Need
Construction paper, brown and yellow
Glue
Scotch tape
Pencil
Ruler
Acrylic paint
Small paint brush
Yellow glitter
Scissors
Mark and divide a sheet of construction paper into thirds lengthwise -- each section being 3 inches wide. Mark and divide the construction paper into fourths width-wise. Make the top section 3 inches, the second section 2 inches, the third section 3 inches and the fourth section 4 inches. This creates grids on the construction paper.
Cut a cross-shaped template out of the construction paper along the middle lengthwise strip and the width-wise strip you marked.
Fold the top of the cross section up along the marked line at a 90-degree angle. Crease into place. Fold the left and right sections up at the same 90-degree angle. Crease into place. Fold the bottom section up at a 90-degree angle and crease.
Glue the four sides of the box together. The addition of some clear scotch tape will also help hold the paper box as it dries.
Roll the last section of the box around the pencil to help give it some curve. Fold and crease it along the marked line so that it forms a lid.
Cut out two strips of the yellow construction paper to serve as gold bands for the box.
Glue the two "gold bands" around the outside of the box and the lid. Allow the glue to dry.
Paint the words "Treasure Box," "Warning!" or "Pirate Booty!" in yellow or white on the shoe box. You can freehand this part. Allow the paint to dry to the touch.
Spread some glue on the surface of the yellow construction paper. Sprinkle the yellow glitter on top of the glue. Pour off the excess glitter. Allow the glue to dry. This will add that extra touch of sparkle to your mini treasure box.