Things You'll Need
Replacement drawer boxes

Putty knife

Screw drivers

Glue (if recommended by manufacturer)

Masking tape

Drill

Drawer liners (optional)
Plastic kitchen drawers become brittle over time. But if the drawer fronts are still in good condition, the inner plastic box part of the drawer can be replaced. Follow the steps in this article to add years to the useful lifespan of your kitchen cabinets.
Step 1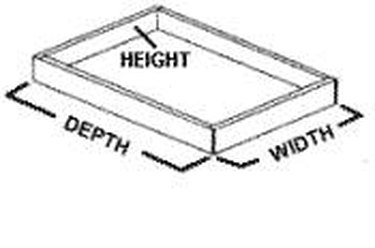 Remove the drawers from the cabinet and measure each one for length, width and depth. Order replacement drawer boxes in either plastic or wood. Check with the company to make sure the placement of your drawer slides will be compatible with the replacement drawer.
Step 2
Use a piece of masking tape to mark the drawer's location before you empty it. On the back side of the drawer face, remove the screws holding the plastic drawer in place. If the drawer face is glued to the drawer front, use a putty knife to gently pry the plastic off the drawer front.
Step 3
Use solvent to remove any glue residue. Clean the surface with a grease cleaner. Make sure the surface is thoroughly dry before proceeding.
Step 4
Carefully align the drawer front with the replacement drawer box. Drill holes in the front section of the plastic replacement drawer to align with the holes that already exist in the drawer front. If the plastic drawer manufacturer recommends it, apply glue to the drawer front before attaching it with screws. Do not screw in the screws too tightly as this could crack the plastic.
Step 5
If necessary, attach the drawer slides to the sides and bottom of the replacement drawer. The new drawer will have directions included.
Step 6
Replace the drawers in the cabinets and replace the contents. Add to the life of the drawers by lining them with soft nonslip liners.
Tip
Check the metal drawer slides in your cabinet for damage or excessive wear. Replacements can be bought at a hardware or home supply store.
When replacing the drawer's contents, take the time to sort and organize them. Dividers will help you keep your new drawers orderly.
Warning
Plastic replacement drawer boxes are increasingly difficult to locate. You may have to consider switching to wood.