Things You'll Need
Flexible measuring tape

Pins

Pencil and paper

Fabric

Thread

Zipper

Sewing machine

Trim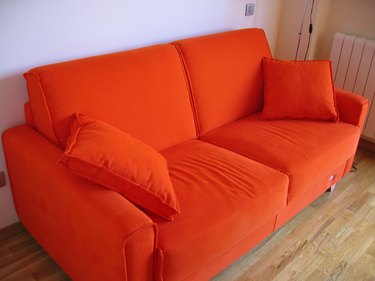 Purchasing a new couch is expensive so before you shell out big bucks for a new piece of furniture, try giving your existing couch a makeover. Sewing new couch cushion covers can make it look new again. Try adding new colors to the room by selecting a different color fabric. A new look starts with sewing new couch cushion covers.
Step 1
Measure the couch cushions. Take the cushions off the couch to obtain an accurate measurement. Use a flexible sewing measuring tape and measure the height, length and width of the cushions. If cushions are the same size, measure one and multiply the measurements by the number of cushions. Always double check measurements. Write down the measurements.
Step 2
Determine the amount of fabric needed. Fabric is sold by the yard so divide the total inches by 36 to determine how many yards of fabric are needed. Take both measurements with you when going to the fabric store. Consider purchasing a few extra yards of fabric to ensure you have enough for the project. Select a fabric that matches your lifestyle. Consider a darker color for active families, especially those with children. Bolts of fabric have content stickers on the end, informing buyers of the fiber content and care required of the fabric. Try holding the fabric up to the light to determine how thick the weave is. If you can see light, the fabric features a loose weave. Consider a thicker weave for couch cushion covers. Make sure to feel the fabric and imagine sitting or laying in it. Avoid fabrics that are rough and stiff. Purchase fabric, matching thread, zippers and trim, if you desire. Wash selected fabric. Washing fabric pre-shrinks it. Do this before cutting and sewing if the fabric is machine washable. This ensures when couch cushion covers are washed at a later date, they will not shrink. Iron wrinkled fabric.
Step 3
Use the original cushion for a pattern. Place fabric on a large, smooth surface, wrong side up. Put the cushion on top of the fabric. Use a pencil or fabric marker to measure and mark the fabric around the cushion. Add extra fabric, allowing for the cover to slip easily over the cushion and for seams. Carefully cut the fabric.
Step 4
Sew the covers. Fold the cut material in half, naturally creating a front edge seam. Make sure the material is wrong side out for sewing. Use pins to hold the fabric in place for the side seams and to guide sewing. The back of the couch cushion cover provides an opening to place the cushion.
Step 5
Insert a closing method. Turn the cover right side out. Use a closure of choice such as a zipper or snap tape. Hold in place with pins and carefully stitch around the edges. Test the closing to ensure it works properly. Slip the cushions into the new covers and close. Place the newly covered cushions on the couch.