Things You'll Need
Linens

Centerpieces

Candles

Flowers or flower petals

Pictures

Picture frames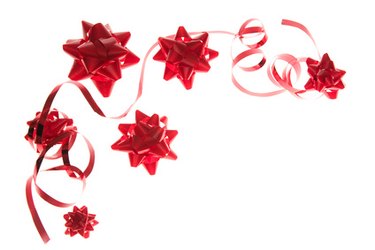 Banquet halls are usually used to celebrate and make special memories, but decorating a banquet hall can be a daunting task. The good news is that your options are many, and with a few tips, you can look forward to the job instead of dreading it. Relax, read below and learn how to create a beautifully decorated banquet hall and create memories that you and your loved ones will always cherish.
Step 1
Choose a theme, including a color scheme. Deciding on a particular theme for your decor will instantly make your job easier because you will have a focus, not to mention a shopping plan. Use the event as your guide. Perhaps your guest of honor's birth year can serve as the theme, or you can use Noah's ark for a baby shower.
Step 2
Start with the table linens. Pick a tablecloth color in your scheme, and choose a complimentary shade for the napkins.
Step 3
Decide on the centerpieces. Design one centerpiece and then recreate it for all of the tables. Whether your centerpiece is a big brown ark filled with pastel animals, or a glittery Styrofoam "1968" sign, pick something with personal meaning to the guest of honor.
Step 4
Surround the centerpiece with tall candelabras or small votive candles, depending on your budget. Sporadically place your guest of honor's favorite flowers around the centerpiece. Use more or less flowers depending on your budget. Opt for flower petals strewn on the table if flowers are too expensive.
Step 5
Create a pretty cake table by using a tablecloth with flowers printed on it. Have your caterer or cake baker add the flowers used on the tables to top the cake, or strategically place them on the cake yourself.
Step 6
Create a picture table with pictures of your guest of honor through the years in pretty frames. Be eclectic with your frames. They don't have to match.
Step 7
Personalize. As long as you think about your guest of honor, and what would make the decor special to her, your decor is sure to be a hit!
Tip
Determine your budget and pick decorations that fit into it. For instance, if you want real flowers, you might have to opt for carnations over roses.
Warning
Don't go overboard or the decorations could turn tacky. Stick with a theme or color palette to pick a few central decor ideas.