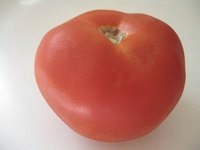 Using seeds to start tomatoes is a great way to grow your own tomatoes. Tomato seeds take around 2 to 3 weeks to sprout before they can be transferred to your garden. Starting tomato seeds indoors is cheaper than buying grown plants. Seeds need water, warmth and soil to germinate which you can control indoors. It is a good idea to start tomato seeds indoors during late spring so they are ready to plant in early summer.
Things You'll Need
Tomato seeds
Potting soil
Starter seed pots or recycled egg cartons
Fill small pots or an egg carton with potting soil. Leave some space at the top.
Gently place a few tomato seeds in each. Then cover the seeds with more potting soil.
Water the tomato seeds and place them on a tray in a warm window.
Water every couple days until sprouts start.
Wait for each plant to have at least three leaves. Transplant the seedlings to your garden.