Things You'll Need
Small glass bottle and lid

Jasmine essential oil

Rose essential oil

Bergamot essential oil

Sandalwood essential oil

Jojoba oil, apricot oil or almond oil (for the base)

Funnel

Teaspoon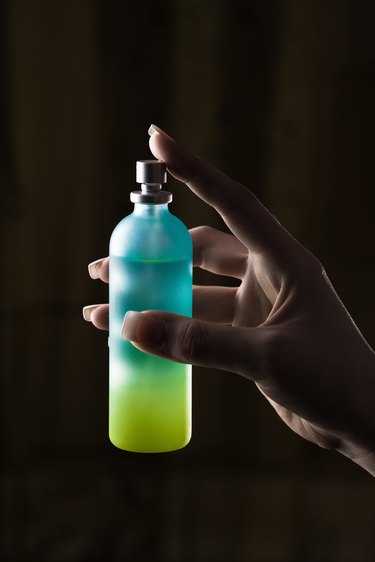 Homemade oil-based perfumes are unique, personalized fragrances that have the added benefit of being free of chemical preservatives. Store-bought perfumes can be expensive, but you can create your own perfume at home for a fraction of the price. Plain unscented oils, such as jojoba or almond oil, make great bases for perfumes, while a blend of pure essential oils will create the perfume's aroma. All the ingredients required to make homemade oil-based perfumes can be purchased from aromatherapy stores or online retailers.
Step 1
Insert the funnel into the opening of the small glass bottle. Measure 2 tsps. of your chosen base oil and pour it into the funnel. Remove the funnel from the bottle.
Step 2
Use the built-in dropper in the lid of the essential oil to measure 2 drops of bergamot directly into the glass bottle. If the essential oil doesn't come with a dropper, you can use a disposable plastic dropper to measure the oil.
Step 3
Add 1 drop of jasmine essential oil. Close the lid of the bottle and shake gently to mix the solution.
Step 4
Unscrew the lid of the bottle and add 1 drop of rose essential oil. Close the lid and shake the bottle to mix the solution.
Step 5
Unscrew the lid and add 2 drops of sandalwood essential oil. Close the lid and shake the mixture.
Step 6
Store the oil-based perfume mixture in a cool, dry place and shake it 2 to 3 times a day for 10 days. The perfume can be used immediately, but leaving the oils to fuse together for 10 days will create a more powerful fragrance.
Tip
Experiment with different essential oil combinations to create your perfect perfume.
Store your glass bottle in a cool dark place to prolong the life of the fragrance.
Warning
Pure essential oils can stain clothing and wood.
Some essential oils should be avoided by pregnant women.