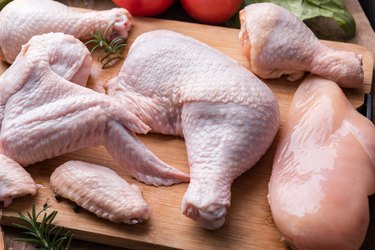 The Nesco roaster is a lifesaver for busy home cooks across the globe. This easy-to-use and easy-to-clean roaster makes the perfect companion for those nights where using the entire oven is just too much of a chore. If you're like most people, at least one night a week, you'll be serving chicken. You may wonder how to cook chicken in a Nesco roaster. There are a few different ways to roast chicken in the Nesco, and they're all simple to follow.
The Nesco roaster is a convection oven that cooks food differently than traditional ovens. The difference between a conventional oven and a convection oven is that the convection oven also employs a fan in the oven cavity. This fan helps circulate hot air around the food, baking and roasting more evenly. This even cooking makes for the crispy and juicy roast chicken you're seeking.
Cooking Chicken in a Nesco Roaster
The first step in cooking chicken in your Nesco roaster is to determine the amount of chicken you'll be roasting. The 4-, 5- and 6-quart models will all fit a 3.5- to 4.5-pound chicken with no problem. Once you've chosen the right-size chicken to cook in your roaster, you can start by setting the rack in the cookwell. Before you get too far into the preparation process, preheat your roaster oven to 400 degrees Fahrenheit. Rub the chicken with your choice of seasonings, making sure to first coat the chicken in olive or vegetable oil.
Next, you will want to wipe the cookwell and rack with cooking oil or spray. Then, place your chicken on the preheated rack in the cookwell. Reduce the oven temperature to 375 degrees. Cover the chicken with the lid and roast for 1 to 1 1/2 hours. Your Nesco roaster will thoroughly cook and roast your chicken using its patented convection-style fans.
Other Nesco Roaster Recipes
Chicken isn't the only thing the Nesco roaster is adept at cooking; it can roast a whole host of items. Whether or not it's Thanksgiving won't matter once you pull your roasted turkey out of the Nesco roaster! Nesco provides Nesco roaster recipes to roast a turkey using its 18-quart roaster oven. This oversize design will fit a 14- to 22-pound turkey with room to spare. For best results, make sure that your turkey is thawed correctly to avoid any food contamination.
In addition to roasting meats, like chicken and turkey, you can even bake in your Nesco roaster. Since the roaster is just a fancier convection oven, cookies and cakes will bake evenly and well due to the warm air circulating around the dessert. To use your roaster as a traditional convection oven, simply prepare the dessert as you typically would according to the recipe and then place an appropriately sized pan in the cookwell. The Nesco roaster will bake just like your oven at home.
Whenever you're handling raw chicken, you want to follow strict health and safety guidelines. To start, make sure to wash your hands thoroughly after touching raw chicken. You may even want to consider wearing gloves to handle the raw chicken. In addition to washing your hands, you should also wash any surface the chicken touches. That includes cutting boards, knives and even counters and sinks.
Make sure to eat your leftover chicken in a reasonable time frame. People often wonder how long roaster chicken is good for; the answer is that it depends on how you're keeping it. If the roaster chicken has been refrigerated and kept cold, then you should eat it within three to four days. Refrigeration slows bacterial growth but does not stop it completely. It's always a solid idea to stay on the safe side when it comes to food safety.