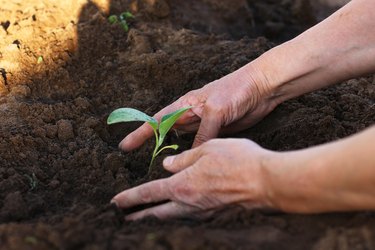 Many aspiring green-thumb gardeners learn quickly that gardening is much more than putting your plants in the ground and watching them thrive. You must consider many factors, including hours of sunlight, soil pH and whether the ground is too wet. Unfortunately, determining your soil drainage is not as simple as observing the ground. Thankfully, it's still relatively straightforward to learn how to tell if soil is dry or too wet, and you can also learn techniques for how to dry out plant soil. These aspects are important because soil moisture and drainage are critical to a successful garden.
Overly Dry Soil or Overly Wet Soil?
You can use a simple test to see if the soil in your garden is too wet or dry. Gardening experts recommend repeating this trick several times over a few weeks during different types of weather conditions. You may want to check a few additional times in various seasons to see if your soil moisture changes with the season or the weather.
You need to dig a hole about 8 inches deep using a trowel. Once your hole is fully dug, you'll want to reach into the hole and pull out a palmful of dirt. Ball it tightly in your fist and squeeze it for several seconds. When you release your hand, observe the soil. It is too dry if it doesn't hold its shape and falls apart immediately.
It might be an acceptable moisture level if the dirt stays in a loose ball, but you'll need to test it further. Press one of your fingers on the opposite hand into it. If the ball doesn't fall apart, it's likely too moist. Another indicator of moist soil is if you frequently observe water standing on the surface of the ground hours or even days after rainfall.
There are some quick-fix techniques that you can try if you need to learn how to dry out soil quickly, especially if you've overwatered or had a lot of rain. You can always let Mother Nature take care of the excess moisture and let it dissipate naturally, but waiting may take too long if you already have your plants in the ground.
If your soil is chronically moist, you can do a few things to improve drainage and irrigation. The first is to plant very thirsty flora; that is, you'll want to plant flowers or other plants that require a lot of water. Plants such as irises (Iris spp., zones 3-8), lily of the valley (Convallaria majalis, zones 3-9), Indian grass (Sorghastrum nutans, zones 4-9) and trumpet creeper (Campsis radicans, zones 4-8) all love moist conditions and will naturally absorb a lot of the excess moisture.
Another method for achieving better drainage is incorporating lots of organic matter into your ground cover. You can use mulch, compost, peat and manure to help drainage.
Find Out What Your Plants Need
The most critical element to a successful garden is knowing what your plants need and what your garden can provide and then planning accordingly. For example, if your garden space gets full sunlight, don't try to plant root vegetables or leafy greens, which both grow better in the shade.
Can you plant in wet soil? If you are planting species that thrive in moist, swampy conditions, then go ahead and plant them. Seeds are different, though. Sometimes, seeds need specific requirements other than more mature or germinated plants. If you're wondering, "Can you plant seeds in wet soil?" you'll need to read about the plant you're cultivating to find out.
In addition to the moisture level of your soil, it's good to know the pH. You can buy an inexpensive home testing kit that can let you know if you need to treat your soil to make it more acidic or alkaline.