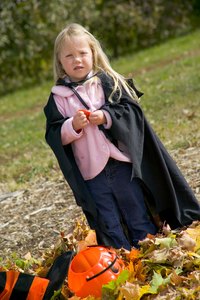 Batman uses his large, dark cape to swoosh through the streets of Gotham to fight crime. The cape is shaped like the wing of a bat with an arched bottom edge. The color has varied in color from dark blue to black over the years, in the comics and the movies, according to Kwame Opam, writing for "The Verge" about Batman's 75th anniversary. The cape anchors below the chin to blend in with the hood. You can make a Batman cape for a large or small Batman at home in an afternoon with a few supplies.
Things You'll Need
Tape measure
½- to 1-yard black or dark blue 59-inch wide anti-pill fleece
Scissors
8-inch round dinner plate
Tailor's chalk
Yardstick
Sewing machine
Coordinating thread
Velcro
Measure the person who will wear the cape from the base of the neck to the top of the ankles. Cut a piece of fleece this length. You need ½ yard to make a small child's costume and 1 yard to make an adult costume.
Fold your piece in half on the long edge to form a long, skinny rectangle; if your piece is a square, it's folded incorrectly. Place it on the table with the fold on the left side. Measure a quarter of the way down the right long edge and mark with the chalk. This is not the folded edge. Measure halfway across the top short edge and mark with the chalk. Place the yardstick on the marks and draw a line with chalk to connect them.
Place the plate face-down on the cape 5 ½ inches from the top and 4 inches from the fold. Trace around the rim of plate with chalk.
Cut the fabric along the straight and the curved chalk lines to shape the neck and shoulders of the cape.
Unfold the cape and lay it flat. Place the plate face-down on the bottom edge of the cape. Position the plate so half of the plate is on the fabric and the other half is on the table. Trace the outline of the plate onto the fabric with chalk. Repeat along the bottom of the cape to create the bat-wing scallop design. Cut along the chalk lines.
Fold the side edges of the cape ¼ inch and pin. Fold around the neck and the bottom of the cape ¼ inch and pin. Sew around the cape along the fold to hem. Use a straight stitch and a 1/8-inch seam allowance.
Cut two 1 ½-inch squares of Velcro. Pin them at the inside edges of the neck of the cape. Sew around the edges of the Velcro using a zigzag stitch. Use a straight stitch to make an "X" through the middle of the square to reinforce it.