Things You'll Need
Charcoal briquettes

2 lbs. raw hamburger

Spatula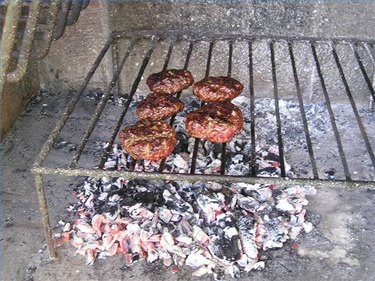 Grilling burgers on a charcoal grill is a quintessential summer pastime. A juicy, smoky burger fresh off the grill can't be beat on a summer afternoon spent outdoors with friends and family. But a dry, overcooked burger can ruin everyone's good time. With a little care and patience, you can make sure you're serving delicious charcoal-grilled burgers all summer long.
Step 1
Remove the grill grate and stack the charcoal briquettes in a pyramid shape in the bottom of the grill.
Step 2
Light the charcoal. Allow the briquettes to burn down and turn white, then spread them evenly in the bottom of the grill.
Step 3
Press chunks of the raw hamburger meat into patties approximately 3/4 of an inch thick. Replace the grill grate and place the patties evenly about the grilling surface.
Step 4
Cook the burgers on the charcoal grill for approximately 5 minutes per side for medium-cooked burgers. Cook for a couple minutes more or less depending on how well-done you want your burgers. You can cover the grill to speed up your cooking time, but be sure to check on the burgers frequently to make sure you don't burn them. Flip the burgers only once with the spatula to prevent overcooking.
Step 5
Check the doneness of the burgers. Use the spatula to look inside the center of the patty and determine if the burger is cooked.
Step 6
Remove the cooked burgers from the charcoal grill with the spatula. Serve on buns with the toppings of your choice.
Tip
Don't press down on the burgers with the spatula while they're cooking on the grill. This will squeeze out the juices and lose the flavor.
Warning
Never use a charcoal grill indoors. Wash your hands after handling raw meat.