Things You'll Need
Jolly Rancher candies

Plastic bag and meat tenderizer or mortar and pestle

Shot glasses

Ice

Cocktail shaker

Sour apple schnapps

Apple vodka

Melon liqueur

Triple sec

Sweet and sour mix
The Jolly Rancher shot takes the classic candy into grownup territory -- like its namesake, this sweet shot goes down with a tangy, sour edge. You don't need the corn syrup or sugar of the actual candy to recreate its signature taste, but you will need a variety of fruity liquors to capture Rancher's layered flavor profile in liquid form. With its shocking green hue, the Jolly Rancher shot makes for a festive addition to birthday bashes and holiday parties, but it packs a lot more punch than a hard candy -- keep things jolly by drinking responsibly.
Step 1
Crush a handful of Jolly Rancher candies -- you can go all green apple or spice up the look and flavor with a variety of colors -- by sealing them in a plastic bag and whacking them with a meat tenderizer, or using a mortar and pestle.
Step 2
Wet the rims of your shot glasses and dip the glasses face-down in the crushed Jolly Ranchers, rimming them with the candy.
Step 3
Fill a cocktail shaker about a third of the way with ice and add equal parts sour apple schnapps, apple vodka, melon liqueur, triple sec and sweet and sour mix. Put the top on the shaker and shake the mixture thoroughly until you feel it chill.
Step 4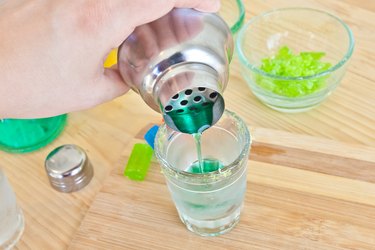 Pour the mixture into the shot glasses through the shaker's strainer -- pour from a bit higher than usual to avoid rinsing off the Jolly Rancher rim. Serve while the shots are still chilly.
Tip
To take this drink from shot to cocktail, add lemon-lime soda to the mix, using an equal amount of soda, each type of liquor and sweet and sour mix. Serve over ice in a rocks glass or shake over ice and pour into a martini glass, optionally rimmed with Ranchers.
For a simpler shot, infuse vodka with sour apple Jolly Ranchers by allowing the candy to fully dissolve into the alcohol. Use about a dozen candies per half a fifth of vodka -- this process requires a bit of prep, as it takes the Jolly Ranchers at least an hour to dissolve. Stir the dissolved candies and shake the candy-infused vodka over ice, then pour into a shot glass for a quick and easy shooter.