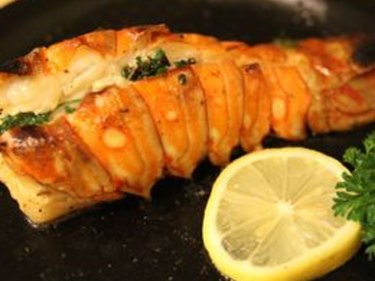 According to the website lobsterhelp.com, a frozen lobster tail is tougher than the tail of a live lobster. However, you get more meat since you're not paying for the whole lobster and you have the convenience of having the lobster in the freezer. The frozen tail can be prepared like a fresh tail, but it must be completely thawed before it can be cooked.
Step 1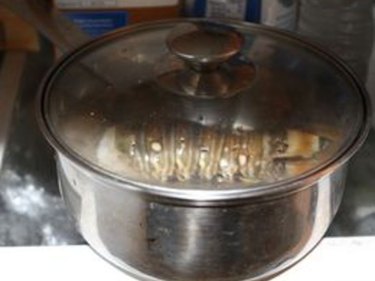 Remove any packaging around the tail and place it in a tightly covered bowl. Leave the bowl in the refrigerator overnight or at least 10 hours. For a faster thaw, place the tail inside a 1 gallon plastic bag filled with cold water. This should take about an hour.
Step 2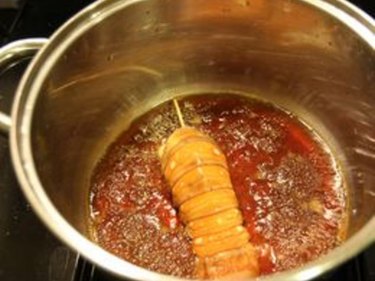 To steam lobster tails, first rinse the thawed tails under cold water and pat them dry. Run a skewer the length of the tail through the meat so the tail won't curl much. Place about 1 qt of water in the steamer and bring the water to a boil. Place up to four tails in the steamer and cook for 1 1/2 minutes per oz. When they're done, run them under cold water to stop the cooking process.
Step 3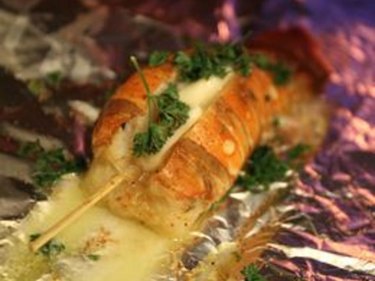 To bake the tails, preheat the oven to 400 degrees. Rinse the tails under cold water, pat them dry and place them on a baking sheet. Cut the shell lengthwise down the top and spread the shell to expose the meat. Season it with pepper, salt and paprika, and bake the tail for 8 to 10 minutes.
Tip
Lobster is cooked when it is no longer translucent, much like shrimp. The flesh will turn white and the shell will become red. Overcooking lobster will make it rubbery.