Salmon is one of the most healthful fish a person can eat. There are many ways that a family can prepare the salmon so that they don't get bored of eating it. One of those ways is to smoke the salmon. If you don't have a smoker you can still smoke your salmon on a gas grill. This is a great option for those summer-like days when you enjoy being outside. You get to spend some time in the fresh air while preparing a tasty meal for your family.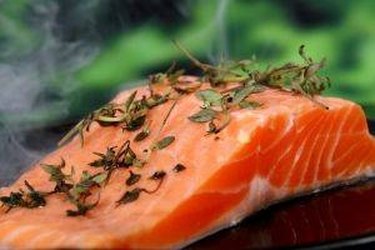 Things You'll Need
Medium-Sized Bowl

Pepper

Aluminum Foil

Salt

Hickory Wood Chips

Plate

Vegetable Oil

Water
Step 1
Take out 1 1/2 cups of hickory chips and place them in a bowl. Fill the bowl with water and allow them to soak for 20 minutes.
Step 2
Salt and pepper your salmon and set it aside on a plate. You don't need a lot of spices when smoking salmon because the smoke gives the salmon its flavor.
Step 3
Take the cooking grate off of the grill and turn your grill on.
Step 4
Remove your hickory chips from the bowl and place them in aluminum foil. Wrap them up and begin poking holes through the aluminum foil with the end of a knife.
Step 5
Place the packet of wood chips over the hottest part of your gas grill's fire.
Step 6
Replace the cooking grate and turn your gas grill up to high heat.
Step 7
Oil your cooking grate by brushing on a good amount of oil. Don't be skimpy with the oil or it will cause the salmon to stick to the grill.
Step 8
Place your salmon on the grill rack and close the lid. Wait 4 minutes.
Step 9
Open the grill and flip the salmon over. You should notice the grill marks. Close the lid and wait another 4 minutes.
Step 10
Remove the salmon from the grill and set it on a platter. Allow it to sit for 5 minutes before serving. This gives the juices time to settle.
Tip
Marinate your salmon using your favorite marinade.
Use mesquite wood chips instead of hickory for a slightly different smokey flavor.
Warning
Salmon doesn't take that long to cook, so don't get distracted and forget about it.