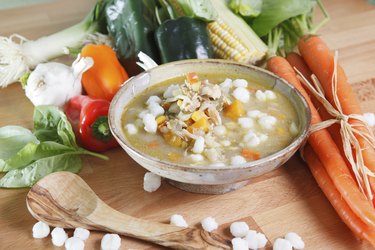 Start to Finish: 45 minutes Servings: 6 to 8 Difficulty Level: Beginner to Intermediate
Posole, sometimes spelled pozole, is a homey Mexican dish somewhere between a soup and a stew. It gets its name from its main ingredient, which is better known in the United States as hominy -- corn treated with lime to make it tender and chewy. Posole can be prepared with chicken, turkey or pork, or it can be made vegetarian; truly authentic posole will often combine meats and take many hours to cook, but streamlined versions are just as tasty and true to the spirit of the dish. It has several variations, including posole rojo or red pozole, and posole verde or green posole. This recipe is for posole blanco, or basic white posole with chicken.
Ingredients
2 to 3 pounds chicken on the bone, skinned -- breasts with ribs, bone-in thighs or other parts
Water
1 bay leaf
1 tablespoon oregano, preferably Mexican
1/4 teaspoon cayenne
1 onion, sliced
3 cloves garlic
1 can hominy, 28 ounces, drained and rinsed
Salt and pepper to taste
Shredded cabbage
Thinly sliced radishes
Diced avocado
Diced tomato
Chopped cilantro
Minced red or white onion or sliced scallions
Lime wedges
Crumbled Cotija cheese
Hot sauce
Tortilla chips
Poach the Chicken
Place the chicken parts in a large saucepan or stockpot. Cover with 3 to 4 quarts of water. Add the onion, garlic, bay leaf, cayenne and oregano. Bring to a boil and then reduce to a bare simmer.
Cook for about 30 minutes, or until the chicken is cooked through. Remove the chicken with tongs and let cool. Meanwhile, strain the broth; save the liquid and discard the solids. Return the liquid to the pot. Taste and correct seasoning, adding salt as needed.
Assemble the Soup
When the chicken has cooled enough to handle, shred it by hand or with a fork into bite-size shreds. Add the chicken back to the pot.
Add the hominy to the pot. Bring to a simmer on medium heat. Taste for seasoning and add salt and pepper as needed.
Ladle the posole into wide, shallow soup dishes. Pass the garnishes and let diners customize their individual servings of soup to taste.
Tips
Making your own chicken stock from scratch takes extra time but adds flavor.
If you can find dried hominy, you can use it here; cook it before adding to the posole and substitute 2 cups cooked dried hominy for the 28-ounce can. Dried hominy takes a long time to cook but its flavor and texture are quite superior to that of canned hominy.
For a faster version of this dish, use commercial chicken stock or pre-prepared homemade stock plus leftover shredded chicken or turkey. Skip the poaching step and assemble the soup as directed. If using commercial stock, taste carefully for salt.
Warnings
Keep the poaching chicken at a low simmer so that you don't cook too much of the liquid away -- remember that you need it later to form the backbone of the soup. Should you find yourself low on liquid after poaching nonetheless, you can supplement with pre-prepared chicken stock, either homemade or commercial.