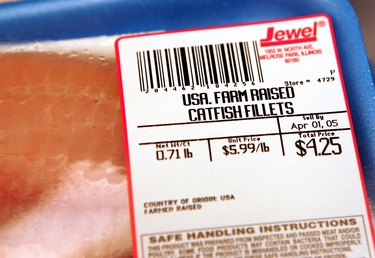 The catfish is a freshwater fish and native to the southern United States. It's so named for the long, cat whisker-like antennas found near its nose and mouth. There are more than 2,100 species of catfish, although most sold in the market are the farm-raised catfish. Wild fish are also available but not that popular.
Catfish are available fresh, frozen or live. It can be bought filleted, whole and in meat pieces cut from the mid-body sections known as nuggets. Catfish meat has a mild, nutty taste and firm texture.
Step 1
In poaching, the poaching liquid or mixture generally consists of water, broth, spices and herbs. Whatever kind you use, bring it to a simmer. Drop in the skinless fillets and cover the pan. Keep the liquid at a simmer for about nine minutes per inch of thickness.
Step 2
In broiling, rinse the catfish steaks or fillets and pat dry with paper towel. Coat the flesh with flour, cornmeal or bread crumbs. Place the catfish on a rack above a baking dish.
Preheat the broiler and put the fish on a rack about 4 inches from the heating element. Broil them turning once, until the fish is opaque in the center. Depending on size of the fish, it will take 2 to 10 minutes.
Step 3
In frying, pour the oil into deep fryer or wok. Heat the oil to 375 degrees F. A thermometer is useful to monitor temperature.
Cut the catfish into pieces, 1 1/4 to 1 1/2 inch across. Dip in batter, drain, then gently slip fish pieces into the boiling oil. Cook until brown but not too dark, about 2 to 4 minutes.
Step 4
In pan frying, rinse the catfish and pat dry with a paper towel. Dredge the fish in flour and seasonings. Be sure to shake off any excess flour and seasonings.
Add butter or oil to the frying pan and heat until hot. Place steak or fillets in the pan. Cook, turning once, until opaque but not dry in the center. Depending on the size of the fish, cooking time varies from 3 to 10 minutes.
Step 5
In grilling, place the steaks or fillets directly over the flame on a greased grill, 4 to 6 inches above hot coals or gas fire. Baste with oil, butter or marinade, and then close the grill hood.
Grill until opaque and moist on the inside. Cooking time is 7 to 10 minutes for catfish less than an inch thick; 12 to 15 minutes for fish thicker than 1 inch.
Step 6
In baking, rinse the fish and pat dry with a paper towel. Place fillets, steaks or whole fish in a baking pan. Cover with a liquid sauce, spices, herbs and vegetables. Bake catfish in a preheated oven to 400 degrees F until a knife inserted in the thickest part shows the flesh to be opaque but not dry.
Tip
Fresh catfish smells fresh, like clean river water; it never smells fishy.