Things You'll Need
5 pounds bone-in pork sirloin roast

1 tablespoon salt

5 garlic cloves

2 1/2 teaspoons pepper

2 1/2 teaspoons dried rosemary

2 1/2 teaspoons dried sage

2 tablespoons olive oil

Mortar and pestle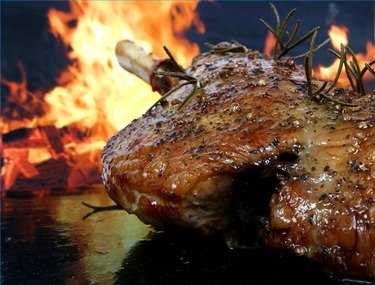 Bone-in pork sirloin roast is an inexpensive and delicious cut of meat that contains parts of the hipbone and backbone. Although it is an excellent quality cut of meat, it can be tricky to slow cook the meat through to the bone without overcooking the outer part of the roast. The way around this is to use the natural heating of the bone to help cook the inner meat of the roast. Combined with a garlic-herb marinade, you can cook a perfectly cooked, succulent slow cooked bone-in pork sirloin roast.
Step 1
Using the mortar and pestle, mash the garlic cloves and salt together until you create a paste. Add the pepper, rosemary, sage, and oil. Continue to mash until a thick paste forms and all of the ingredients are combined well.
Step 2
Rub the paste all over the pork sirloin roast. Place the roast into the refrigerator and allow it to marinate for up to 24 hours.
Step 3
Preheat the oven to 475 degrees. Place the roast into a shallow roasting pan with the fat side up. Place the roast into the oven and cook for 30 minutes.
Step 4
Remove the roast from the oven and let it rest for an additional 30 minutes. Reduce the heat of the oven to 325 degrees.
Step 5
Return the roast to the oven and let it cook between 1 hour and 1 hour and 15 minutes. The internal temperature of the roast should reach 145 degrees.
Step 6
Remove the roast from the oven and let it rest for another 20 minutes before serving.