Things You'll Need
Sturdy work gloves

Wet/dry vacuum cleaner

Bleach

Water

Buckets

Scrub brushes

Cleaning rags

Trash bags

Dumpster

Dish washing soap

Laundry detergent

Washing machine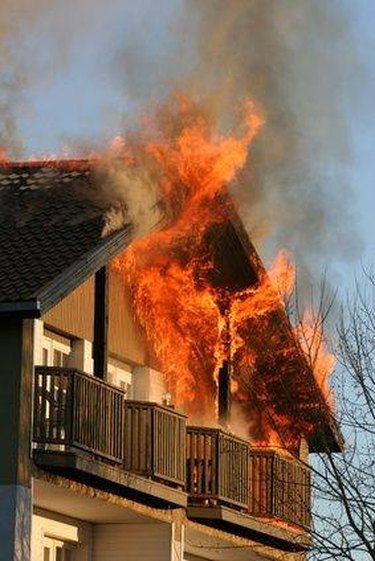 A house fire is a catastrophic event. There are not many worse situations in a homeowner's life than that of a house fire. Even house fires that are controlled relatively quickly by the fire department can leave extensive damage in their wake. If you have had a house fire, learn how to clean up after a house fire so that you can salvage as much of your home and as many of your possessions as possible.
Step 1
Contact your local fire marshal and receive confirmation that it is safe to re-enter your home after a fire. Do not attempt to enter your home until you have spoken with an official and given the go-ahead.
Step 2
Wait to move or change anything inside your home until you have spoken with your insurance representative. If your insurance company requires pictures of the damage, you must wait to rearrange anything inside your home until this is done.
Step 3
Remove valuables remaining in your home after your insurance representative gives you the go-ahead if you are not able to reside in your home after the fire. Check to see if an insurance representative needs to note what you remove for his records.
Step 4
Find a building inspector and hire him to ascertain that it is safe for you to use electric power in your home before using any electricity. If you cannot use electricity, disconnect all gas and electric sources until necessary repairs are completed.
Step 5
Find a dumpster service and have a dumpster delivered to your driveway if the fire was extensive and there will be a lot to throw away.
Step 6
Wear sturdy work gloves. Open all possible windows.
Step 7
Sift through the wreckage and remove any items that will attract mildew growth. Remove all wet clothing, curtains and fabrics. Look through these wet items and wash what you can save with a heavy-duty laundry detergent. Anything that cannot be saved must be thrown away.
Step 8
Run a wet/dry vacuum to remove as much water as possible to determine if carpets are salvageable. Determine if there is water seeped under the carpet mat and to the floor boards underneath. If this occurred, the carpets must be removed and this water damage addressed and fixed by a professional.
Step 9
Wash the ceilings and walls with a solution of hot water and bleach. Keep in mind that 1 or 2 tbsp. of bleach to 1 gallon of hot water is sufficient to disinfect these surfaces and prevent mildew from beginning to grow.
Step 10
Remove any hard floors if there is apparent water damage. There is no way to salvage hard floors if water went under them, because eventually the water will cause warping and further damage. Have the water damage addressed and fixed by a professional if necessary.
Step 11
Research companies that may be able to help you with this clean up. Often your homeowners insurance will cover at least part of these expenses.