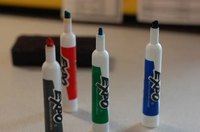 Dry erase markers are designed to be used on a special type of glossy white board. The markings made from the dry erase pens on the white board are not permanent and can be removed simply by using a special eraser or rag. Dry erase markers and whiteboards are commonly used in schools, offices and homes. Thankfully, when markings occur on painted walls, there are a few tricks to getting the dry erase marks off before resorting to repainting.
Things You'll Need
Rag
Mr. Clean Magic Eraser
Hairspray
Rubbing alcohol
Dry erase cleaner
Test in an inconspicuous spot on your painted wall. Before you try any of the following techniques, test in a spot that cannot be seen to see if any discoloring or chipping may occur. Let it dry completely before deciding if any damage was done.
Use Mr. Clean Magic Eraser. Wet it and gently rub directly on the dry erase marks to remove them from the wall. Rinse with a wet rag.
Spray some cheap hairspray on the dry erase marks. Rub away with a clean, wet rag. Rinse with a wet rag when done.
Use rubbing alcohol. Put some rubbing alcohol on a rag and gently rub away. Rinse with a wet rag.
Use dry erase cleaner. There are cleaners you can buy to clean dry erase white boards. Spray this on the marks and wipe clean. Rinse with a wet rag when done.