If your concept of fondue was formed in the 1960s with a wedding-gift fondue pot and odorous cheese, it's time to update your fondue knowledge. Restaurants around the country are offering a wide variety of fondues, ranging from appetizers to main dishes to dessert versions. And yes, the traditional cheese is still available, too. The key to many of these dishes is the dipping sauces, particularly for the main dish fondues. You can replicate a popular national restaurant chain's delicious yogurt curry dipping sauce at home.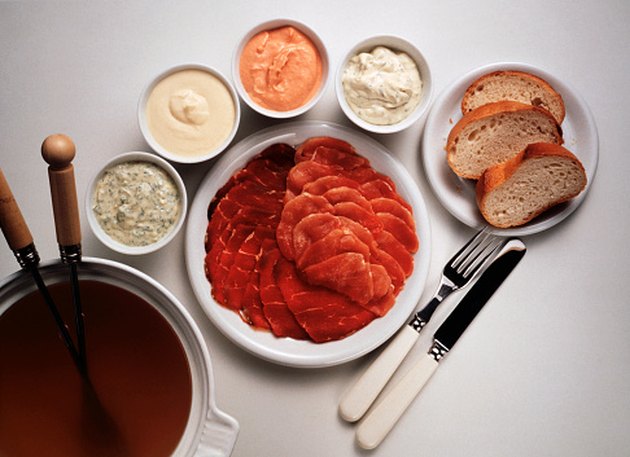 Things You'll Need
1/2 cup plain yogurt

1/2 cup real mayonnaise

1/2 cup mango chutney

2 teaspoons minced red onion

2 teaspoons curry powder

1 teaspoon fresh lime juice

1/4 teaspoon cayenne pepper

Food processor

Small covered bowl
Step 1
Measure and add the yogurt, mayonnaise, chutney, red onion, curry powder, lime juice and cayenne pepper into a food processor.
Step 2
Pulse in food processor three to four times or until well-blended.
Step 3
Transfer the sauce to a small bowl; seal tightly. Refrigerate the sauce for two hours to allow flavors to blend.
Step 4
Serve as a dipping sauce with meat or vegetable fondue or spoon warmed sauce over baked chicken.
Tip
If you cannot find mango chutney, substitute two tablespoons of brown sugar combined with one teaspoon ground fresh ginger. Use whole milk yogurt and real mayonnaise to obtain the full richness of this sauce.