A slow-cooker delivers the rich, cheesy results you want from macaroni and cheese with minimal effort. Simply add all of the recipe ingredients to the pot and let it slowly cook to cheesy perfection. Whether your recipe instructs you to precook your noodles or let the slow-cooker do the work, you can expect to be eating a finished dish in two to four hours. A few minutes before serving, sprinkle a handful of grated cheese on top and let it melt for super cheesy results.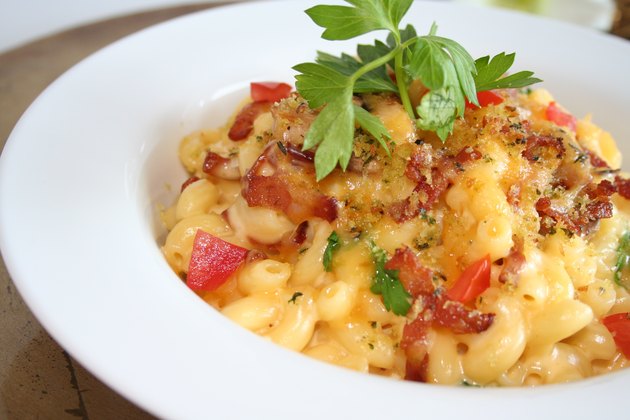 Uncooked Macaroni
Uncooked macaroni reduces the amount of prep work but increases the overall cooking time. Combine a beaten egg with 6 ounces each of evaporated milk and heavy cream per cup of uncooked dried pasta. This will create approximately four servings. Fold in 1 to 2 cups of shredded cheese per cup of pasta, depending on the level of cheesiness you want. Use cheddar cheese for a classic version, or mix it up with Monterey Jack or Pepper Jack. Pour the dried macaroni mixture into a lightly greased slow-cooker and cook on low for four hours. Stir at least once halfway through. The noodles will be cooked through and chewy when done.
Cooked Macaroni
Mac and cheese made with cooked pasta stays perfect moist and cheesy cooked in the slow-cooker. Combine a beaten egg along with 6 ounces each of evaporated milk and heavy cream per 1 1/2 cups of cooked pasta to create approximately three servings. Stir in 1 to 2 pats of butter for added richness, along with 1 to 2 cups of shredded cheese. Increase the amounts if you need to feed a crowd. Cook on low for two to three hours, stirring every once in a while to combine the ingredients and prevent sticking to the sides of the pot.
Tasty Variations
Modify a basic macaroni and cheese recipe for more creative flavors. Mix in bacon, lobster pieces, ground beef or sliced chicken -- all precooked -- for meaty mac and cheese. Stir in diced bell peppers or jalapenos, along with a few squirts of hot sauce, for a spicy kick. Instead of or in addition to traditional cheddar cheese, use an Italian or Mexican cheese blend. A tiny pour of liquid smoke adds a subtle smokiness, and seasonings such as onion powder and garlic salt add tasty flavors.
Healthy Substitutions
To cut down on calories, look for low-fat shredded cheeses or substitute water or skim milk for heavy cream. Use whole wheat pasta for a healthier alternative. For recipes that call for butter, use margarine instead or substitute a few spoonfuls of low-fat sour cream or cream cheese.