Picking raspberries and growing raspberries is so much more enjoyable when you have a raspberry trellis installed in your berry patch. The berries are easier to reach and mulching the beds in the fall is a breeze. Building a traditional raspberry trellis is a great project for the beginning gardener and can be completed for less than $50 .
Things You'll Need
4 x 4 x 8-foot treated posts, (2)

2 x 4 x 3-foot treated boards, (2)

2 x 4 x 2-foot treated boards, (2)

Posthole digger

Level

#6 screw eyes, (8)

100 feet 14-gauge galvanized wire

80-lb bag fast setting concrete, (1)

3 1/2 inch wood screws, (16)

Cordless drill

Wire snips
Step 1: Set Fence Posts
Use a posthole digger to dig two holes, 2 feet deep and about 20 feet apart. Set posts in cement following the directions on the back of the concrete bag and let the cement harden overnight.
The next day, backfill the hole and tamp the soil into place once the cement has dried.
Step 2: Pre-Drill Holes
Pre-drill four holes in the center of each 2-foot and 3-foot board.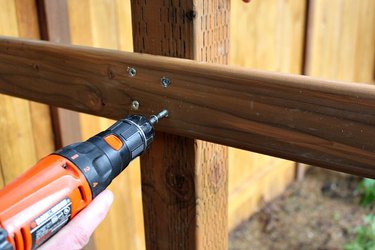 Step 3: Attach Crosspieces to Posts
Place the 36-inch crosspiece 18 inches from the top of your post, level it and drill four wood screws through the board and into the fence post. Then, place the 24-inch crosspiece approximately 18 inches from the ground, level it and drill four wood screws through the board and into the fence post. Raspberry canes tend to arch outward as they grow so having the longer board towards the top of the fence post is beneficial.
Step 4: Attach Screw Eyes to Crosspieces
Once the crosspieces are attached to the posts you'll need to install the screw eyes to the crosspieces. Screw eyes hold the support wires and should be placed on the inside of your trellis. Place screw eyes approximately two inches from the edge of your crosspieces and screw them into the board. You may need to use a screwdriver or other slender tool to tighten them securely into the boards.
Step 5: Thread Wire
Stretch the galvanized wire taut between the screw eyes from one end of the trellis to the other. Twist to secure.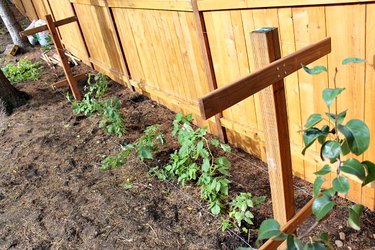 Step 6: Enjoy Your Trellis
The finished height of the trellis should be about 6-feet tall. As the raspberries grow, you can choose to tie them to the wires or let them sway in between the galvanized wires. Tighten wires as needed the following spring.