Pasta's mild flavor provides a good starting point for many dishes when paired with meats, cheeses, vegetables, seafood and sauces. Ro_Tel Chicken Spaghetti is a great example of what can be done with a few simple ingredients, while also solving the cook's eternal dilemma of coming up with a new and delicious way to prepare the same old chicken. The Ro_Tel line of products includes the diced tomatoes with green chilies that provide their distinctive Tex-Mex spiciness to this recipe, and the Velveeta brand pasteurized process cheese food provides the dish's creaminess.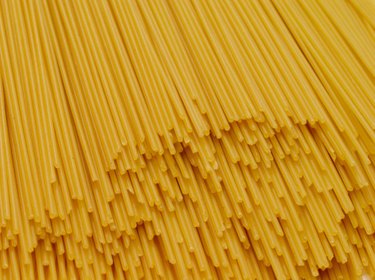 Things You'll Need
1 Lb. Boneless Chicken Breasts

1 Lb. Velveeta

1 Can Cream Of Chicken Soup Or Cream Of Mushroom Soup

2 Tbsp. Vegetable Oil

1 Can Ro*Tel Tomatoes With Chilies

Large Bowl

1/2 Cup Milk

Large Pot

9-By-13-Inch Baking Dish

Spray Pan Coating

1 Lb. Spaghetti

Large Skillet
Step 1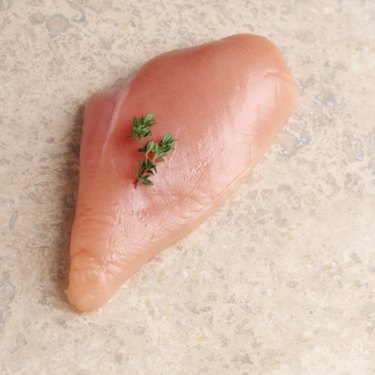 Cut boneless chicken breasts into 1/2-inch cubes.
Step 2
Heat oil in large skillet and saute chicken over medium heat until golden and cooked through, or about 5 to 7 minutes. Remove from pan and set aside.
Step 3
Cook spaghetti in large pot of boiling salted water until al dente, or just tender. Drain well and set aside.
Step 4
Cut Velveeta cheese into small cubes and place in large microwaveable bowl and heat on high until just melted.
Step 5
Stir cream of chicken or cream of mushroom soup into the melted cheese and blend thoroughly. Add a little milk if the sauce seems too thick.
Step 6
Drain the Ro*Tel tomatoes, reserving some of the juice, and add them to the cheese sauce mixture. Blend well.
Step 7
Add the drained spaghetti and the sauteed chicken to the cheese sauce in the large bowl and stir until well blended.
Step 8
Pour the mixture into the baking dish that has been sprayed with pan coating, and bake uncovered at 375 F for 30 to 40 minutes or until the top is bubbly and golden.
Tip
You can easily vary this dish by sauteing onions, green or red bell peppers and mushrooms with the chicken cubes.
If you prefer a less spicy dish, substitute plain diced tomatoes for the Ro*Tel tomatoes with chilies. You can also use store-brand pasteurized process cheese food instead of Velveeta.
The dish can be prepared entirely on the stove top, eliminating the baking step. Just be sure to keep all of your ingredients hot until the final blending.
To save cooking time, substitute the meat from a store-bought rotisserie chicken.