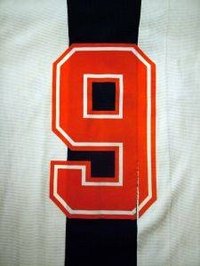 Displaying a jersey in a shadow box adds dimension in a game room or your child's bedroom. It's easier to make a shadow box than you may think, once you have the materials for your design. Building a shadow box for a jersey is also much less expensive than if you bought one.
Things You'll Need
1-by-2 inch strips of wood
Glass
Trim
Backer board
Felt
Small screws
Screwdriver
Craft glue for glass and wood
Sandpaper
Stain or paint and primer
Determine the overall dimensions of your shadow box based on the size of the jersey. Spread the jersey onto a table and measure the height and width, adding 1 to 2 inches all the way around as you prefer. If your shadow box will house other memorabilia in addition to the jersey, measure the amount of room you need and add it to the design. Create a materials list, complete with measurements, so you can have the home improvement store cut the wood and glass for you. You will need four strips of 1 by 2s, one each for the top and bottom and two for the sides. Your trim will measure the same as your 1 by 2s but should have a ridge to hold the glass in place. Backer board can be any thin panel that fits the back of your shadow box. If you would like for the backer board to slide in and out of place, have a groove notched into the two longest 1 by 2s to hold it.
Gather your materials and begin by attaching the side 1 by 2s to the top and bottom 1 by 2s. Remember to place the notched edge facing each other on the inside.
Glue the glass onto the front edges of your shadow box. Let it dry before attaching the trim around the edges of the glass for decoration and to help hold the glass in place.
Sand the shadow box before you prime and paint or stain the wood portions of your shadow box. Depending on the type of backer board you choose, you may wish to finish one side or not. It will be hanging against the wall, so there is no need to finish it.
Attach the felt to one side of the backer board. Let the glue dry before you proceed. Attach the jersey onto the felt with hidden pins or Velcro strips. Slide the backer board into the corresponding slots. You can also Velcro it on, or glue it if you don't plan to remove the jersey.