Things You'll Need
Vinegar

Needle and thread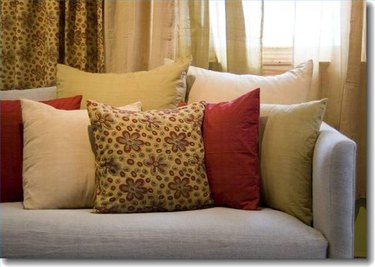 Throw pillows add can add color to your living room as a comfortable accessory to your sofa. Throw pillows come in different shapes and sizes and sometimes come with a removable cover that can easily be tossed in the laundry. For those that don't, cleaning may be a little trickier. Here's a safe way to clean throw pillows that will keep them in good shape for years to come.
Step 1
Cut the seam along one side of the pillow. Be careful not to stray from the seam as this will make a hole when you sew it back up.
Step 2
Remove the stuffing. If the stuffing is old or dirty, this may be a good time to replace it. You can purchase stuffing at any fabric store.
Step 3
Hand wash the fabric in vinegar or an oxygen cleaner and rinse with plain warm water.
Step 4
Turn the fabric inside out and allow it to air dry in the sun.
Step 5
Place the stuffing back in the fabric once it is completely dry and sew back along the seam.
Tip
For simple spot cleaning and stain removal, try Spot Shot, Febreeze or Oxyclean.