Things You'll Need
Self-inking stamp

Squeeze or roller bottle of ink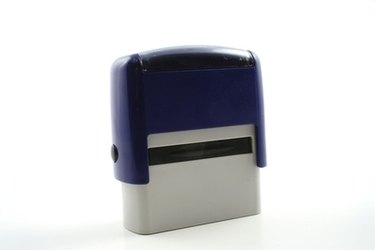 A self-inking stamp uses a rubber stamp pad, like most stamps. However, it also contains an ink pad, which is built into the frame of the stamp. The stamp pad rests on the ink when not in use, and then rotates as you push the stamp down onto the paper. While the ink in these stamps does last quite awhile, it will eventually run out. Do not throw the empty stamp away. Take a couple of minutes and refill it.
Step 1
Press the stamp down slightly, no more than a quarter of an inch.
Step 2
Squeeze the button-like indents on the sides of the stamp cap while continuing to press it down. This will secure the stamp into this position. If your stamp does not have the side indents, simply continue to hold the stamp down slightly.
Step 3
Find the ink pad, which will look like a horizontal strip on the front of the stamp. It may have the maker's logo on it. Push the ink pad out from the back of the stamp to the front with your index finger. Pull it the remainder of the way out of the front.
Step 4
Keep the ink pad horizontal. Drip five or six drops of ink directly onto the pad. If you are using a bottle with a roller, set the ink pad down and roll the bottle back and forth across the ink pad several times.
Step 5
Set the stamp on a stack of several pieces of scrap paper. Slide the ink pad back into the slot on the stamp. Push the stamp down onto the paper to release the button locks and to absorb any excess ink.
Tip
Make sure to use the same color of ink that was previously in the stamp.
Warning
Be careful with the ink bottle. If it drips onto clothing, it may stain.