Things You'll Need
Two sauté pans

Large pot

1 box (16 oz.) fettuccine pasta

12 oz. heavy cream

10 tablespoons unsalted butter

1 1/2 cups freshly grated parmesan cheese

1 lb. bag frozen, pre-cooked shrimp

3 cloves garlic, minced

Salt and pepper to taste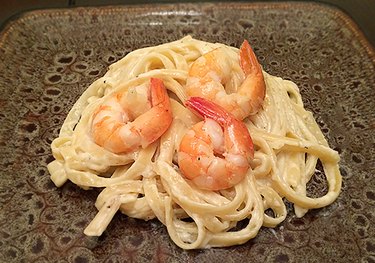 Shrimp Fettuccine Alfredo is both delicious and surprisingly simple to make. In under 30 minutes, a few basic ingredients can be transformed into this traditional Italian favorite.
Step 1
Boil salted water in large pot. Add pasta to boiling water for the amount of time instructed on the box, normally 12-13 minutes for al dente.
Step 2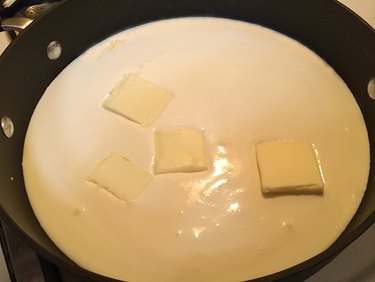 While the pasta cooks, add cream to a large, flat-bottom sauté pan and warm over low-medium heat. Melt 8 tablespoons of the butter into the cream, being careful not to allow the sauce to burn or boil. Allow the sauce to slightly thicken over low-medium heat, stirring occasionally.
Step 3
In the second sauté pan, melt the remaining 2 tablespoons of butter and add the minced garlic. Allow the garlic to cook for 30 seconds. Add the pre-cooked shrimp to the butter and garlic and sauté until shrimp are thoroughly heated. The shrimp can be kept over low heat until ready to serve.
Step 4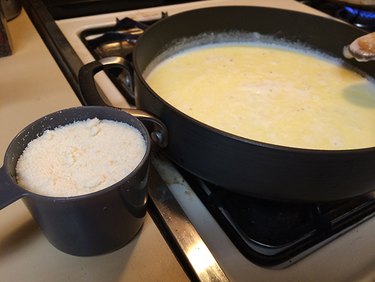 When the pasta is about 3 minutes from being done, add 1 cup of the grated Parmesan to the cream and butter and stir until it is completely incorporated into the sauce. This will thicken the sauce and add the classic cheesy flavor. Add salt and pepper if desired and continue cooking over low heat, stirring occasionally.
Step 5
Once the pasta is done cooking, drain off the water and add the pasta directly to the alfredo sauce and toss thoroughly in the sauté pan with the remaining parmesan cheese. Allow sauce and pasta to marry for about 1 minute over low heat. Serve pasta with shrimp immediately.
Tip
A nice Chardonnay pairs exceptionally well with this classic Italian dish.
This recipe makes 4-6 servings.
Alfredo sauce does not keep very well; so if cooking for fewer people, cut the ingredients appropriately.
Frozen shrimp should be thawed before cooking by placing the bag in a bowl of lukewarm (not hot) water for 20-30 minutes.
Adding a couple teaspoons of fresh lemon juice with the cream can help cut the fat and add a little zip. You can also finish the dish with fresh lemon zest and cracked pepper.
Grilled chicken or vegetables can be added instead of shrimp for those with allergies or other dietary restrictions.