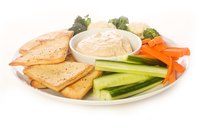 When the bag of pita in your refrigerator goes stale, don't throw it away. Use it to make homemade pita chips for a fraction of what you'd pay for commercially made pita chips in the grocery store. For the healthiest chips possible, use whole-wheat pita bread, vegetable oil and low-sodium seasonings like herbs or spices. Serve pita chips with soup, curry or thick bean stews, fresh salsa and guacamole, or hummus.
Things You'll Need
Pita bread, white or wheat
Sharp knife
Rimmed baking sheet
Nonstick cooking spray
Pastry brush
Olive oil
Seasonings, such as salt, pepper, herbs and spices
Preheat the oven to 350 degrees Fahrenheit.
Cut each pita into wedges. Pull apart each wedge to yield two thin layers of pita.
Coat a rimmed baking sheet lightly with nonstick cooking spray. Position the pita wedges in a single layer on the sheet with the rough, inner side of each wedge facing up. Use an additional baking sheet if the pita cannot all fit comfortably on one.
Brush each pita wedge with olive oil. Sprinkle them with an even layer of seasonings, such as garlic powder, sea salt, paprika, freshly ground black pepper, red pepper flakes, curry, onion powder, or dried herbs like basil or oregano.
Put the baking sheet into the preheated oven. Allow the pita wedges to bake for six to 10 minutes, or until they are golden brown and crisp. Rotate baking sheets halfway through the cooking time if you are preparing two sheets of chips.
Let the chips cool briefly before serving.