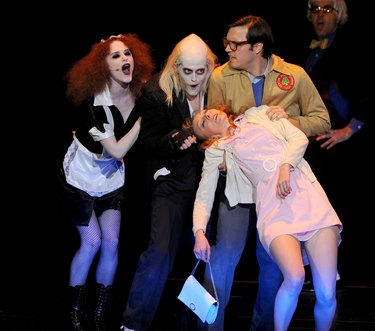 ​The Rocky Horror Picture Show​ is many things: a musical, a comedy, a sci-fi film and a campy cult classic that defies categorization. And this beloved 1975 freak show, with its in-jokes and wacky set designs, offers plenty of inspiration for a theme party. From Transylvanian treats to decor fit for a mad scientist, your theme party is sure to be a hit on any planet.
Make your party invites look like official invitations to the "Annual Transylvanian Convention" featured in the movie. Give the party's address as the location of the convention, and list the convention's host as Dr. Frank-N-Furter. Use the image of the iconic red lips from the "Ricky Horror Picture Show" movie poster in your design, and choose a "Rocky Horror" style font that looks as if it's dripping blood.
And don't forget to tell all the party guests to come in their best "Rocky Horror" character costumes. For party favors, send revelers home with black vinyl goodie bags full of red wax lips and copies of the DVD or CD soundtrack to the movie.
Rocky Horror Party Decorations
Plan an advance viewing of "The Rocky Horror Picture Show" for inspiration; then make your space look like Dr. Frank-N-Furter's spooky castle. Use plenty of red and black colors, like red carpets and black fabric draped over furniture; then scatter faux-cobwebs around the room and throw in a few plastic spiders.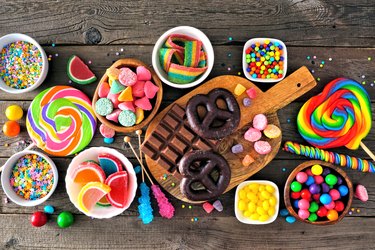 Display posters featuring artwork shown in the doctor's castle, like the "Mona Lisa" and the classic "American Gothic" painting. Hang string lights around the room, and fill your space with anything creepy that will make the location feel like a crumbling mansion, such as faux statues, vintage clocks, skulls and skeletons. Additional touches could include lighted votive candles and lamps wrapped with feather boas as some of your Rocky Horror party decorations.
Rocky Horror Picture Show Food and Drink
Serve a few food items that hardcore ​Rocky Horror Picture Show​ fans will recognize, such as toast, rice and, of course, meatloaf. Have a hot dog tray featuring Dr. Frank-N-Furter's frankfurters and plenty of individuals bags of popcorn. For sweet treats, make red velvet cupcakes decorated with red candy lips, and set out glittery bowls full of red hots and red licorice.
Any red beverages will be Transylvanian-approved, such as red fruit punch and bloody Mary's, especially if they're served in fancy goblets. Or, come up with your own signature cocktails. Serve "Time Warp Martinis" with muddled cherries and "Sweet Transvestite Tea" with champagne and cranberry juice to complement your Rocky Horror Picture Show food.
Entertainment and Activities
Rent a karaoke machine or throw on a CD and have a "Rocky Horror" sing along featuring the movie's classic tunes. Then have a "Time Warp" dance party at which you and your guests perform the movie's signature dance. Or, have a wacky version of pin the tail on the donkey by playing "pin the lips on the doctor," using a photo of Tim Curry as Dr. Frank-N-Furter and construction paper lips. Give the winner a feather boa or a DVD of the movie.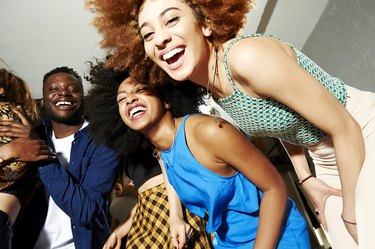 At the end of the night, print out "Rocky Horror Picture Show" audience participation guides; then have a screening of the movie at your party.