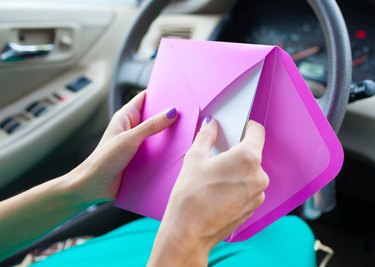 A greeting card shower allows loved ones who live far away to celebrate meaningful occasions despite distance. It is not a traditional shower in the sense of gifts for a prospective mother or bride -- "shower" is used in the sense of a "shower of cards," a wonderful way to let the guest of honor know just how loved he or she is (though of course, a new mom or bride is a perfectly worthy candidate). A greeting card shower lets people share in the excitement of special occasions when they can't be there in person.
The Basics of a Greeting Card Shower
The premise of a greeting card shower is relatively simple: Invitees – also called guests – mail a card out to the person being honored to show their love, support, congratulations, well wishes or sympathy. Your grandmother's 80th birthday, for example, is a great occasion for a greeting card shower. Instead of buying a gift that your grandmother might not want or need, shower "guests" mail a greeting card to let her know they wish her the best on her special day.
Occasions for Greeting Card Showers
Any celebration can become an occasion for a card shower. While anniversaries and birthdays are two of the most common occasions, greeting card showers work with just about any transitional occasion. Graduation, a new baby, a new home and a wedding are just a few of the other occasions that are perfect for card showers. Greeting card showers are especially ideal for the elderly or people who are homebound. It makes their occasion more memorable by letting them know people are thinking of them.
Inviting People to Participate in the Shower
For a successful greeting card shower. figure out how to invite people to participate. Before the rise of social media, hosts would send physical invitations to the guests, personally call them and even take out an ad in the local newspaper. Thanks to social media sites and websites specifically designed for invitations, however, you can now create an event page for the greeting card shower and invite people online. Social media, however, shouldn't be your only tool for inviting guests, since not everyone is active on the Internet. It is best to use multiple methods to ensure the recipient receives as many greeting cards as possible.
Coordinating the Arrival of the Cards
When inviting people, make sure to include the date the cards should arrive by and the address where they should be sent. You can also coordinate the delivery so that the cards will arrive scattered, or timed throughout the week or month instead of in just one or two deliveries. Though it may be hard to achieve exact postal delivery dates, you might try for one card to arrive each day, week or even month.
Alternate Addresses for a Card Shower
You may want to consider renting a post office box for the recipient, if you think he or she would prefer having his or her address kept private. Privacy of address may not be necessary if you're only inviting close friends and family to send cards. You might also have the cards delivered to you so that you can hand-deliver them. This method is good for purposes of surprise, and also keeps the recipient's address private.