Things You'll Need
Painting canvas

Fabric

Staple gun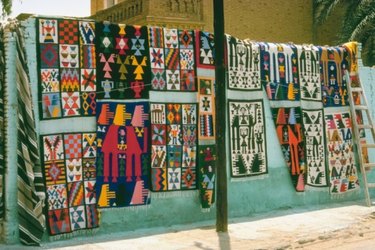 Wall tapestries are a great way to add color and personality to your living space. If you don't want to spend the money on the real thing, you can make a great alternative. You can make a wall tapestry in an afternoon (no sewing involved), and you will have the flexibility of changing the look whenever you wish.
Step 1
Purchase a painting canvas from a craft or painting supply store. Assess the area in which you will be hanging the wall tapestry and select the canvas size accordingly. Think about whether you would like one large tapestry or a grouping of tapestries. For example, you could buy two or four smaller canvases and group them together in a rectangle Buy a canvas that is at least 1 inch deep.
Step 2
Select the fabric. This is the fun part. Bring out some of the colors in the space where the wall tapestry will be displayed. If your room already has a lot of color, go neutral or pick one color from the room and go with a tone-on-tone look. If your room is neutral, you could choose bolder colors and patterns.
Step 3
Lay the fabric face down on the floor, making sure it is completely flat. Lay the canvas face down in the middle of the fabric and cut the fabric so there is an even border of fabric around the edge of the canvas, preferably 6 inches.
Step 4
Starting at the top, middle of the canvas, pull the fabric toward you across the depth of the canvas and staple it to the back of the canvas. Do this in the middle of each of the four sides of the canvas, making sure each time that the fabric is pulled tight and smooth across the front of the canvas. Work your way around in the same fashion until the fabric is completely stapled to the canvas. The corners can be tricky but a method for making it work is to fold the fabric back like you were wrapping a present. Just remember to do each corner the same way to keep the look consistent.
Step 5
Display your work. Hang your wall tapestry or set it on a fireplace mantle or table. A large tapestry could also look interesting and beautiful on the floor leaning up against the wall.