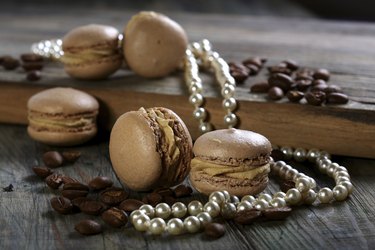 Use the film "Breakfast at Tiffany's" as the inspirational theme for a bridal shower, engagement party and both adult and children's birthday parties. Holly Golightly, played by Audrey Hepburn, wears a black evening gown, drinks coffee from a cardboard cup and eats pastry while browsing the windows at Tiffany's. Borrowing from Hepburn's iconic image and Tiffany and Company's renowned luxury, you can create an elegant affair, reminiscent of the classic movie, by incorporating evening wear, pearls, silver and gemstones into your Breakfast at Tiffany's Themed party.
Breakfast at Tiffany's Themed Party Invites
In keeping with the theme, begin your invitations with, "Darling, you're invited to…" and include the date, time, location, who's hosting the event and RSVP information. Add Audrey Hepburn's iconic image, wearing a black evening gown, long black gloves, tiara and holding a long-stemmed cigarette holder, to the invite. Request that your guests come dressed in their best, little black dresses, pearls and costume jewelry, or black pants and white shirts.
Create the same whimsy for your child's party by replacing Audrey Hepburn's image with a picture of the guest of honor wearing an up-do, fancy black dress, long black gloves, sunglasses and tiara for her Breakfast at Tiffany's Themed Party.
Choose favors that reflect Holly Golightly's style and elegance, such as vintage-style picture frames, faux pearl necklaces or silver-tone jewelry boxes and cufflinks or money clips for men. Package favors in Tiffany blue-inspired boxes, and decorate with white ribbons. Or, simply fill each box with candies or chocolates. Tiffany blue, also known as robin's-egg blue, is associated with the Tiffany and Co. gift boxes that represent luxury and exclusivity.
Children's favors might include vintage cat masks, Tiffany-style boxes filled with candies, mini-marshmallows strung into pearl necklaces and toy rings, reminiscent of the engraved toy ring that Paul gave Holly at Tiffany's.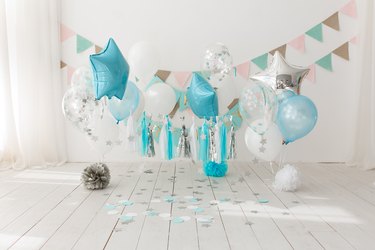 Create intimacy with white linen tablecloths, white chair covers, Tiffany blue chair sashes and blue napkins. Add a black decorative damask table runner to your dining table or buffet table. Decorate with Tiffany-style boxes, and scatter large faux gems around each for added charm. Add simple elegance with white plates and silver cutlery, or go bold by using black plates. Let Tiffany's blue gift box become the inspiration for a celebration cake or individual cupcakes for your Breakfast at Tiffany's themed party.
For a children's party, cluster Tiffany blue and white balloons as a backdrop for the buffet table or candy bar.
Tiffany Themed Refreshments
Choose a menu consistent with your theme that incorporates breakfast or brunch food and drink. Think continental-style breakfast, and pile Danish pastries, scones, croissants and muffins on tiered serving plates. Include yogurt parfaits and individual servings of fruit salad. Along with coffee and tea, serve elegant mimosas made with one part champagne or sparkling wine and one part orange juice in champagne flutes. Buffets allow for more elaborate breakfast foods such as an assortment of egg dishes, bacon, sausage links, hash browns and French toast. Include an omelet station with a hired chef to tend to guests' needs.
Children's menus might include items they can eat with their hands such as mini-muffins, donuts, fruit kabobs and yogurt cups. Serve child-style non-alcoholic mimosas in plastic, fluted glasses, made with ginger ale, orange juice and a dash of grenadine.