How to Organize Cords and Cables. If your home office or computer room is like the majority of people's-you've probably got a "rat's nest" of cords and cables running around connecting your computer-peripherals and maybe even a stereo or a radio as well. All that clutter isn't just unsightly-it could be a real hazard for pets (or even kids) who might play in the room-and there's always the chance you can disconnect something by kicking a cord with your feet. There's lots of ways you can deal with cord clutter. Here are some.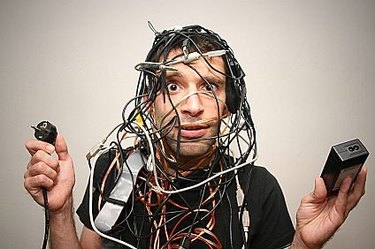 Things You'll Need
Power Bars (With Surge Protectors)

Vacuum Cleaner

Plastic Cable Clips Or Velcro Cable Ties

Split Tubing

Usb Hub

Cable Hooks
How to Cut Down on Clutter
Step 1
Unplug and disconnect all the cable and power cords connecting your electronics, then vacuum away any dust under and around your desk and clean the cords themselves with a cloth. (Be sure to label them if your aren't sure which ones go where.)
Step 2
Determine how many components you have that need their own connection to household power, then install a couple of power bars (with surge protection) into different power outlets. Try to physically group the components by area (e.g. left side of the desk, right side of the desk) so you don't need to run any extension cords to reach the power bars.
Step 3
Computer peripherals often come with long cords that in many cases aren't necessary. You may be able to replace some of the longer cords with shorter power cords (from computer stores).
Step 4
Instead of running components with USB connections back to your computer, consider using a USB hub. Now you only have one connection running back to your computer and all the components can plug into the hub. Alternatively, USBs can be "daisy chained" so you could cut down on clutter by plugging components directly into each other.
How to Organize
Step 1
Rather than running cables along the floor, you can install cable hooks (look like an upside down letter "T" with slightly curved ends) on the underside of your desk. These will keep cables up out of the way so you won't accidentally disconnect anything by kicking a cord.
Step 2
Use plastic cable clips that you can open and close or Velcro cable ties that are also reusable and can hold groups of cables together so they don't get all knotted, twisted and intertwined.
Step 3
Split tubing (a tube about ½ inch to 1 inch in diameter and split along one side) will hold cables together in one place, but allows you to add or break out cables at various locations and works well in some situations.
Step 4
Consider drilling a 1 ½-inch or 2-inch hole in a corner or near the rear of your desk to run cables down through. This will keep them out of the way rather than running them over the side or back of your desk. Color-coordinated grommets are available to fit into the hole giving your desk a nice, finished look.