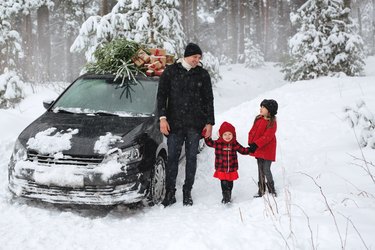 Decorating a vehicle for the holidays can make it look festive and fun, whether you decide to hang jingle bells from your rearview mirror, cover the seats with red cloth or hang a wreath on a car grill.
Although you might want to go all-out and add Christmas lights, this is not a wise idea, as lights could be hazardous. They could be distracting to you and other drivers and in many places across the country, having Christmas lights on cars is illegal. Back to those other decorations, though: how exactly do you hang a wreath on a car grill?
How to Attach a Wreath on a Car Grill
Avoid a giant bright red bow on car wreaths, as this too can distract other drivers. Choose the right-sized wreath for your grill; it shouldn't be too big or too small. You can easily attach a wreath on a car grill with long zip ties. Try tying two of them together to make them longer, which might work better. Also, keep the wreath away from the paint to avoid scratches. A cloth or plastic wreath might be a better idea if scratches are a concern.
If your car has a grill built into the hood, lift the hood and thread a double zip tie at the top of the grill, working from both sides. Thread this zip tie through the frame on the back of the wreath and attach it. Do the same thing with another zip tie, attaching it to the bottom. Then, snip off the ends.
Christmas Car Decorations for Small Cars
If you have a smaller car, don't worry; you can still attach a wreath to your car grill. Use smaller zip ties, but be aware that it will be harder to thread the zip ties in and out. You can attach additional zip ties to the sides of the wreath to keep it more securely attached to the grill. Other than that, the method is the same.
Window stickers also look good on small cars, and you can find ones that look like snowflakes, Christmas lights, reindeer, gifts and more. If you enjoy a macabre gag, you might also like a hanging Santa Claus or elf legs. These look like two legs hanging out of your trunk, either with Santa's red pants and black boots or an elf's striped leggings and shiny shoes.
Other Christmas Car Decorating Ideas
One of the safest and most popular holiday car decorating ideas is the reindeer decorating kit. This kit includes a large pair of antlers to attach to the rear windows and a red nose that goes on your grill.
Another good one is the 3D Santa Claus decal. Stick this on one of the back windows, and it will look like Santa is in your back seat. You don't need any tools, it's easy to install and you also don't have to worry about scratching your car's finish.