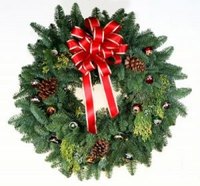 The holiday season brings to light many traditions for families all across the globe. Large family gatherings, singing carols, and decorating are yearly festivities that bring people together to enjoy the sights and sounds of the season. These festive traditions often carry over outside the home, with many people decorating their yards and even their vehicles. Preparing your vehicle for the holiday season is an enjoyable experience that the entire family can enjoy.
Things You'll Need
Wreath
Garland
Scissors
Bows
Holiday stickers
String
Vehicle-safe tape
Towel
Contact your local law enforcement agency before decorating your vehicle. Some states have laws banning the application of any foreign objects to the exterior of your car.
Wash your car thoroughly before decorating it. Tape and adhesives will stick much better to a clean vehicle surface than a dirty one.
Decide where you want to place your decorations. The grille and tailgate or trunk area of your vehicle are good places for items, and your windows work well for stickers.
Place your wreath on the grille of your vehicle. Open your hood and check to make sure your wreath will not block any air coming into your engine. Wrap a small string around your wreath and tie the string around the slats in your grille. Be sure to tie your strings tightly so that the wreath does not come loose while driving.
Trim small sections of garland and tape them over your door handles. Be sure that your tape is safe for paint so that you do not ruin the finish on your vehicle.
Tie small bows on your antenna. Two or three festive holiday bows will add a nice touch, but do not put too many on to avoid damaging your antenna.
Wipe your window with a small rag to remove any dirt and road grime. You want your windows to be very clean so that your stickers adhere well.
Select three or four holiday themed stickers and apply them to your windows. Gift boxes, snowmen and snowflakes fit well with almost any style vehicle.