Things You'll Need
2 lbs. ground beef chuck

1 lb. bulk Italian sausage

45 oz. can drained chili beans

15 oz. can chili beans in spicy sauce

56 oz. can diced tomatoes with juice

6 oz. can tomato paste

1 large chopped yellow onion

3 stalks chopped celery

1 green seeded and chopped bell pepper

1 red seeded and chopped bell pepper

2 green seeded and chopped chili peppers

1 tbsp. bacon bits

4 cubes beef bouillon

1/2 cup beer

1/4 cup chili powder

1 tbsp. Worcestershire sauce

1 tbsp. minced garlic

1 tbsp. dried oregano

2 tsp. ground cumin

2 tsp. hot pepper sauce

1 tsp. dried basil

1 tsp. salt

1 tsp. ground black pepper

1 tsp. cayenne pepper

1 tsp. paprika

1 tsp. white sugar

8 oz. package shredded cheddar cheese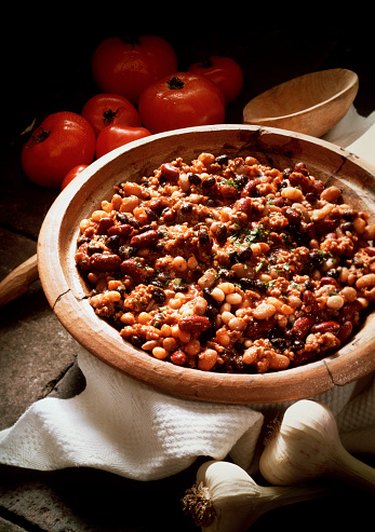 Chili is a hearty dish that mixes meats, beans, vegetables, herbs and spices into a rich stew. Chili recipes vary immensely depending on geographical region and personal tastes. It is typically based around beef, but often contains sausage, turkey or chicken. Vegetarian chili may contain a wide variety of vegetables or tofu as a meat substitute. To prepare the best chili, tailor the recipe to your tastes by adding your favorite meats, vegetables and spices.
Step 1
Crumble the ground chuck and sausage in a large pot until thoroughly browned, then drain the excess grease.
Step 2
Add chili beans, spicy chili beans, diced tomatoes, tomato paste, onion, celery, green and red bell peppers, chili peppers, bacon bits, bouillon, and beer into pan and mix well. Then season with chili powder, Worcestershire sauce, garlic, oregano, cumin, hot pepper sauce, basil, salt, pepper, cayenne, paprika, and sugar.
Step 3
Stir the chili thoroughly, cover and let it simmer over low heat for at least 2 hours. Check on and stir the chili every 30 minutes.
Step 4
Add salt and other spices to taste. Remove from heat and serve.
Step 5
Add cheddar cheese on top for a more rich chili.
Tip
Simmer for a longer period of time for better taste. Eating chili the next day gives it time for all of the flavors to blend for a more delectable chili.
Warning
Avoid using old spices as these tend to have lost their flavor, leading to a bland chili.