Things You'll Need
1 lb. boneless, skinless chicken breasts

1/3 cup pecans

1/3 cup all-purpose flour

1 tbsp. dried parsley

1/4 tsp. salt and pepper

1 egg

1 tsp. Dijon mustard

Food processor

2 shallow bowls

Roasting pan

Meat thermometer

4 baking potatoes

Tossed salad ingredients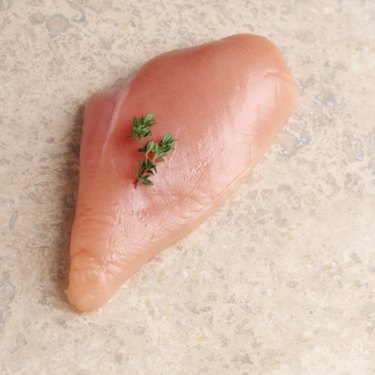 Chicken breasts, with their light and delicious flavor, make an enjoyable entree. When quick and easy are the goals, yet you still want big taste, make a simple and tasty chicken breast dinner. Use ingredients that complement each other and the chicken. Round out the chicken breasts with a few delicious side dishes and your meal will satisfy everyone at the table.
Step 1
Slice the chicken breasts into halves or thirds.
Step 2
Pour the pecans into the food processor and process them for about 10 seconds to chop coarsely. Add the flour, parsley, salt and pepper to the food processor and process the ingredients again for about five seconds. Pour the coating ingredients into the shallow bowl.
Step 3
Place the egg and the Dijon mustard into the other shallow bowl and mix them well.
Step 4
Dip each chicken cutlet into the egg mixture and then into the coating mixture to cover the entire outer edge with nuts. Place the coated cutlet into the roasting pan. Repeat the same process with each piece of chicken.
Step 5
Roast the chicken breasts at 400 degrees Fahrenheit for about 15 to 20 minutes. Insert the meat thermometer into a fleshy portion of chicken breast. When the chicken has an internal temperature of at least 165 degrees Fahrenheit, it is finished cooking, according to the USDA Food Safety Inspection Service website.
Tip
Scrub, prick and bake the baking potatoes at the same oven temperature -- place them in the oven about 30 minutes before the chicken so everything finishes at the same time. Toss a salad and serve everything together.