Things You'll Need
Party invitations

Cosmetics for display and sample purposes

Comfortable and clean venue

Light refreshments

Lively music

Display table

Chair for makeovers

Party favors or goody bags with samples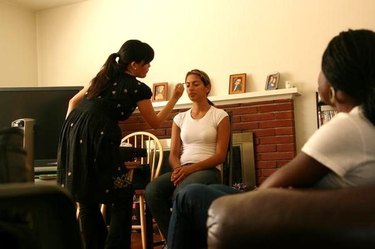 Whether you are an entrepreneur with a new cosmetics line, a makeup artist who wants to advertise your services or a beauty buff with the desire to share your glamorous finds with your friends, you can accomplish your goals with the help of a makeup party. If this is your first time organizing such an event and it is vital to promote your business, keep the number of guests to 10 or 15. If you need to, simply throw another party within the next two weeks or the following month. In the meantime, always be a gracious hostess and never underestimate the power of word of mouth.
Step 1
Begin sending out invitations for the event about a month prior. You may get the word out via electronic means--such as e-mail--or in the old-fashioned style of handing or mailing paper invitations to friends and acquaintances. Design or purchase invitations to match or complement the theme of the party. Inexpensive ones can be found at dollar stores everywhere. Invite more people than you expect to show up; for instance, hand invitations to 20 potential guests if you are aiming for an attendance of 10 to 15.
Step 2
Order the products you will need in more than enough time before the party. If you will be selling makeup, it is especially important that your display items are new or at least barely used so that they appear attractive to potential customers.
Step 3
Welcome guests on the day of the party with a clean venue--whether at a private home or in a rented room--and light refreshments. You don't need extravagant decorations and food. What matters is that your guests feel comfortable and have drinks to quench their thirst as well as snacks. To create a hip, upbeat ambiance, blast lively tunes from a boom box or laptop.
Step 4
Have at least one table on which to display the makeup. You can use a big table that everyone can swarm around as they sample the products or a small one to hold your paraphernalia if you are doing makeovers. For the second option, you also need a chair for your models. Make sure that it is at a height that allows you to apply makeup without standing on tiptoe or bending over excessively.
Step 5
Give everybody a goody bag filled with samples and brochures before they leave. If you are not selling makeup and are throwing a beauty party simply to give your girlfriends a good time, you can present attendees with a small token or party favor instead. Fitting examples would be a mini-lip gloss on a key chain or a pouch of your favorite cosmetics in demo sizes.
Tip
Send out reminders two to three days before the event. You'd be surprised at how easily people can forget about a commitment, as well as how easily they can commit the closer you are to the actual party date. Remember to enjoy yourself--you don't want guests associating your brand or your services with dourness. You want them to feel like they can count on you for a pleasurable experience.