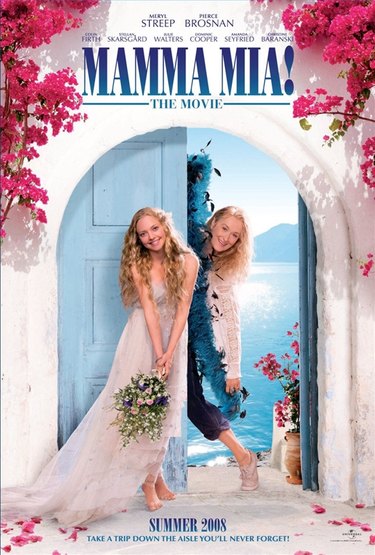 The music from the band, Abba, inspired a Broadway show in "Mamma Mia." After its smash success, the movie was made. Based all on music from the phenomenon of Abba (and featuring cameos from both boy members of the band), the film and its soundtrack became big hits upon the initial release. Sophie is the young, bubbly bride in "Mamma Mia." She is the young heroine whose wedding creates the backdrop for the shenanigans of the movie. Here's how you can be Sophie for the evening.
Step 1
Watch the movie and attend the play if possible. Both of these will show you the spirit and heart of this character, an overjoyed young girl trying to find herself. Her enthusiasm for love and life is infectious.
Step 2
Find a long, blond wig that has flowing curls. If you have naturally golden blond hair that runs long, simply set it in curlers overnight. Otherwise, this is one of the easiest sort of wigs to find, especially in October. Place flowers and barrettes elegantly throughout your hair. Crown your head with a golden band that should support a simple, straight (yet long) veil.
Step 3
Find a simple, form-fitting sleeveless gown. It should be intricate in detail, but simplistic in style. It's high waisted, coming in below the chest. Take a look at the photograph of the movie poster art to take a look at how the film character wore her lovely gown.
Step 4
Put on white heels that have a lace design. Elegance is important for this costume. Sophie has dreamed of a big, white wedding and she wants traditions like having her father give her away. Go the extra mile to give the costume special touches that a big wedding would allow.
Step 5
Put on something borrowed, something blue, something new, and something old. This is the traditional bridal requirement, and Sophie insisted on being an "old school" bride in all that she did.
Step 6
Carry props that were similar to those used in the movie. Letters written to Sam, Harry and Bill in order to entice them to come to the little island are a nice touch. Sophie's mom's retro diary that she used when singing "Honey, Honey" is also fun. Something reminiscent of the scenes of the movie, like her drawing or the guitar, could also be a cool addition to your bridal attire. Make choices that will set this costume apart from other bridal costumes. A lot of it is in the props and the personality.
Tip
Carry an "Abba" album or other fun prop as a nod to the music. Get creative as you want. You don't have to be completely literal for such a fun costume to work.
Warning
Don't forget to learn all the words to a couple of "Abba" songs before putting on this costume. Sophie loves to sing--after all, she's the daughter of a dynamo.