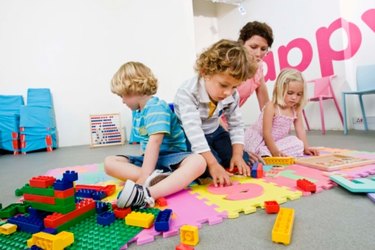 Young children are notorious for putting things in their mouths. Especially when teething, it seems like everything that goes in their hands eventually ends up in their mouth. Children can pass or contract illnesses by chewing on toys that other children have chewed on. This is why it's important to keep toys clean and disinfected. Using a mild bleach solution, it's easy to keep hard, plastic toys clean and free of germs.
Step 1
Thoroughly wash all toys using soap and water. Rinse the toys to remove any soap residue.
Step 2
Fill a bucket with cool tap water.
Step 3
Add 1 tablespoon of bleach to the bucket for every gallon of water.
Step 4
Immerse the toys in the bleach solution and allow them to soak for 10 to 20 minutes.
Step 5
Remove the toys from the solution, rinse them thoroughly and let them air dry.
Step 6
Dump the bucket of water with bleach down the toilet to discard it immediately afterward to prevent children from exposing themselves to the solution.
Tip
To help avoid spreading germs, don't allow young children to share toys that have been in their mouth. Mix new bleach solution for each batch of toys.
Warning
Never mix other chemicals or cleaners with bleach or the bleach and water solution.