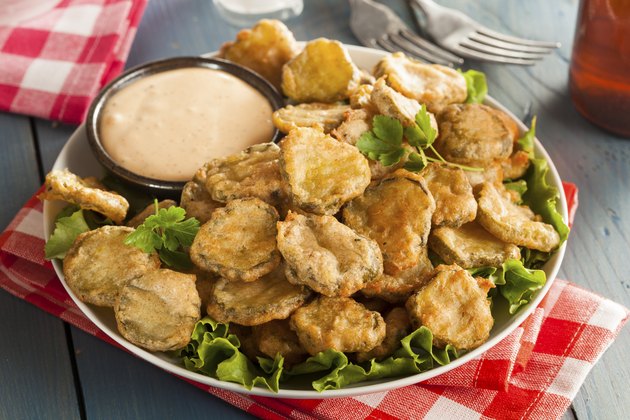 Start to Finish: Around 30 minutes Servings: 5-6 Difficulty Level: Intermediate
A popular side that is often overshadowed by the dish it accompanies, pickles take center stage when fried to crispy, golden perfection. After getting a panko coating, a brief hot oil bath further crisps the exterior, creating a welcome crunch upon consumption. Ranch seasoning and cayenne pepper give the coating a bold and spicy kick that complements sour, savory pickles. Making fried pickles as an appetizer is a no-brainer; choosing a dipping sauce to dunk them in is the hard part.
Ingredients
5 to 6 large pickles
2 cups panko breadcrumbs
1 cup flour
2 large eggs
1 package Ranch seasoning
1/4 to 1/2 teaspoon cayenne pepper
1 quart peanut oil for frying
Salt and pepper, to taste
Instructions
Add peanut oil to a pot and bring to a temperature of 365 degrees Fahrenheit. Make sure there is enough oil in the pot to completely submerge the pickles; if not, add more oil.
Remove the pickles from the brine and pat dry with paper towels. Slice off the ends of each pickle and discard (or eat). Swipe the pickles across a mandolin to create round, thin slices around 1/8 inch thick.
Add the panko breadcrumbs to a food processor or blender and pulse for 5 to 10 seconds to make the crumbs smaller and uniform in size.
Empty the breadcrumbs into a bowl and add in the Ranch seasoning and cayenne pepper, mixing to combine.
Add flour to a separate bowl, along with a few dashes of salt and pepper, mixing well to combine.
Whisk two eggs together in another bowl until well beaten.
Dredge the pickle slices in the flour, then dip them into the beaten eggs. Let any excess egg drip off and finish by coating in the breadcrumbs, pressing gently to make sure the crumbs stick.
Set the coated pickle slices aside until all are coated.
Add a few pickle slices at a time to the hot oil and fry for 2-3 minutes, flipping once during cooking. When the pickles are golden brown and crispy on the outside, remove them from the oil and let drain on paper towels.
Sprinkle with salt and pepper and serve hot, alongside a dipping sauce of your choosing.
Keep 'Em Hot and Crispy
Keep your fried pickles crispy by lining them up in a single layer on a rack over a baking sheet, leaving space between each one. Pop them in a 200-degree oven to keep them warm until you're ready to serve.
Saucy Accompaniments
Creamy sauces pair well with piping hot fried pickles; try a cool Ranch dipping sauce or opt for a spicy Sriracha mayo. A simple fry sauce (equal parts mayonnaise and ketchup), sweet honey-mustard, tangy thousand island or bold horseradish sauce are also excellent accompaniments.
Variations and Substitutions
Season it to your liking. Season the coating however you wish. For classic fried pickles, use Old Bay seasoning or punch it up with Cajun spices. Instead of panko, use Italian breadcrumbs for an earthy, herbaceous flavor.
Pickles come in many different flavors; choose spicy or garlic pickles to boost the flavor from the inside out.