Things You'll Need
Boneless tuna steaks 1-1/2 to 2 inches thick, (Ahi is best but or other Tunas will do)

Vegetable oil, (or Margarine)

Sea Salt

Black Pepper

Lemon Pepper

Dill Weed (optional)

Paprika (optional)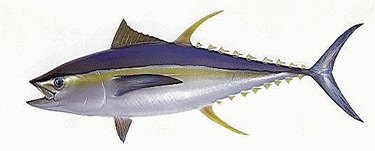 Do you want to make a quick and easy gourmet style meal? How about grilling some Ahi Tuna Steaks?
Step 1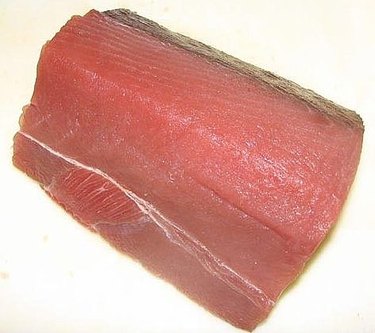 Combine equal amount of Salt, Pepper and Lemon Pepper with just a "pinch" of Paprika and Dill Weed for color and appearance
Step 2
Mix your seasoning together in a bowl, (lifting and sifting with a folk).
Step 3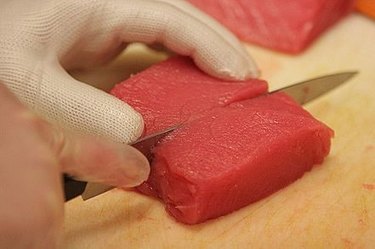 Barely cover the Grill or the bottom of the Pan with your oil (cast iron works best and heats most evenly).
Step 4
Heat the Grill/Pan to Medium Heat.
Step 5
Rub the seasonings into the steaks very lightly and gently (be carful not to tear the tender flakes).
Step 6
After the Grill/Pan is up to temperature, place your lightly seasoned Tuna Steak on the heated surface.
Step 7
Heat until the edges turn white and flip once, (about 4 minutes). Then heat the second side for about 3 minutes.
Step 8
There will be a VERY light golden brown color on the surface of the steaks and the sides will be completely white when the steaks are done.
Step 9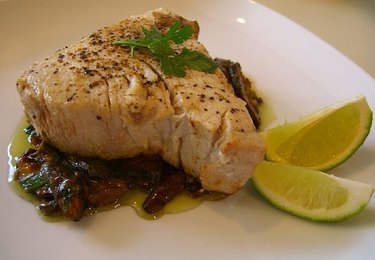 Tip
A few drops of Lemon juice over the top when done is good. Make sure the cooking surface is up to temperature before laying the Tuna on it.