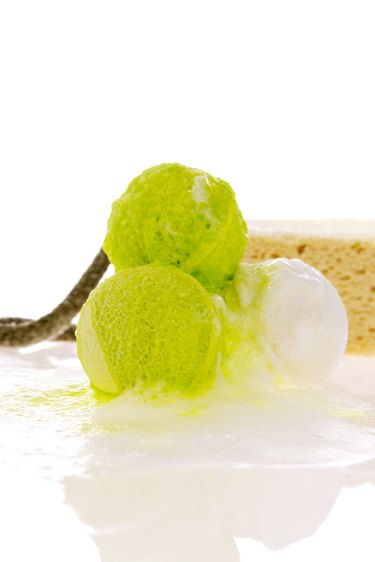 Bath bombs require only a few ingredients. You can add custom scents and oils to make a soothing bath even more enjoyable. Some of the ingredients, such as baking soda and food coloring, may already be in your kitchen, but you might need to go shopping for others, such as citric acid and essential oils.
Gather the Ingredients
The fizzing action of bath bombs comes from baking soda interacting with citric acid when water dissolves them. You'll find citric acid in craft stores near the soap-making supplies, cake decorating tools or candy ingredients -- or you can buy it on line. Be sure to buy powdered citric acid, because in liquid form it reacts with the baking soda immediately and cannot be formed into a bath bomb.
The non-fizzing ingredients include Epsom or mineral salts. You can add cornstarch to make bath bombs float in the water, but it's not essential. An oil such as coconut, almond or olive will moisturize your skin and help hold the bomb together. Use dried flowers, herbs or essential oils for fragrance. Look for essential oils labeled as safe for cosmetics rather than oils for scented burners. Tint the bath bombs with paste or liquid food coloring.
Tool Kit
All you need to mix your own bath bombs is a bowl, stirring spoon, spray bottle, measuring cups and spoons. Shape bath bombs into balls by hand or mold them into shapes with items from the kitchen, such as ice cube trays or muffin cups. You can also use things like plastic Easter eggs, holiday ornaments or baking molds for more elaborate bath bombs.
Give a Stir
In a bowl, combine 1 cup baking soda, 1/2 cup citric acid and 1/2 cup of Epsom or mineral salts. You can also add 1 tablespoon to 1/2 cup of cornstarch, if you like. Stir the dry ingredients together, blending well and removing any lumps. Slowly add 2 to 3 tablespoons of oil. If you're including essential oils or food coloring, add them along with the oil.
The mixture will resemble wet sand and hold together when pressed. If it will not stick after you add the 3 tablespoons of oil, or if you want less oil in the bath, use a spray bottle to lightly mist it with water. Add one spray at a time until the mixture sticks together. The mixture may fizz a bit when you add water or liquid food coloring. You can also stir dried flowers or herbs into the dry ingredients instead of using essential oils for fragrance, or you can press the flowers or herbs into the molds to coat your bath bombs.
Get in Shape
Press the mixture firmly into your molds or press into balls with your hands. Remove the bath bombs from the molds once they are dry enough to hold their shape, so they can dry faster. Large bath bombs may take several days to dry completely, while small ones may dry overnight.