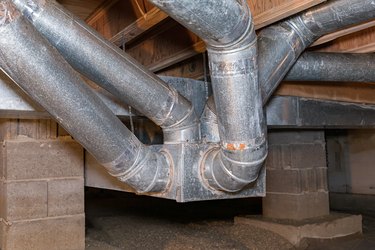 A gas furnace exhaust vent ensures that any hazardous gases that the system produces are removed at the end of its heating cycle. If your furnace isn't heating properly or has shut down, these vents might need to be cleaned and cleared out. Other symptoms of furnace exhaust problems include a strong gas smell, water streaks and rust on the vent. Some of the things that cause clogged vents are corrosion, damage, snow, soot, birds or rodents living in the vent and leaves or branches.
What Is a Furnace Exhaust Flue Pipe?
Gas furnaces process natural gas and distribute it inside buildings. They have burners and heat exchangers inside, which create flames that cause combustion. A blower assembly brings in cold air to the exchangers, and the air temperature increases. The furnace then distributes the air throughout the building through air ducts. The byproducts of the combustion get vented out from the furnace through flue pipes, though some furnaces have drainage systems instead of flue pipes.
Exhaust furnace vents are vital because they remove those unwanted gases. Direct furnace vents have two pipes to bring in air and let it escape without the need for a chimney. A natural vent brings in outside air, directs it to the combustion chamber, and the air then leaves the building via a B-vent pipe. Sidewall power vents, also known as induced draft fans, have integrated fans at the ends of their exhaust pipes that help vent the furnace gases outdoors.
Where Is My Furnace Exhaust Vent?
Outside furnace vents can be located close to a building's foundation, or they might be up on the roof. If your furnace is vented out through your chimney, grab a flashlight, go to your furnace and have a good look at the pipe running from it to the chimney. See if there are any water stains or rust on the exterior furnace vent and check the floor for residue or soot.
Locate the flue cap and put on work gloves. Clean off the flue cap with a rag and then take it off. Look inside the pipe and remove any debris that you might see. A broomstick might work if you need to nudge out something stuck inside, like a bird nest, and a vent cleaning brush is helpful for cleaning out soot. It's also an excellent idea to remove or cut back any trees or bushes growing nearby, as this increases the likelihood of unwanted guests getting into the pipe.
How to Clear a Clogged Exhaust Pipe
To clean the exhaust vent at your furnace, turn it off and get a vacuum cleaner with a hose attachment, cleaning solution and a vent cleaning brush. Go to the furnace, unscrew the grilles and air vent covers and place the screws somewhere they won't get lost. Then, extend the vacuum hose inside the vents to suck up dirt and debris. You can find cleaning products designed to clean pipes and ducts, and these are good to use; follow the label directions and use your vent cleaning brush. Put the house furnace exhaust back together and you're finished.
Having a clean furnace is vital for so many reasons, and in some cases, the problem could be more severe than you think. If you think the furnace exhaust has a severe clog or gas leak, it's best to leave this job to the professionals. It's never a great idea to mess around with a gas leak because of the inherent dangers.