Things You'll Need
Rubber gloves

1 cup ammonia

1/2 cup vinegar

1/4 cup baking soda

1 gallon of water

Terry cloth towels

Toothbrush

Pail or dishpan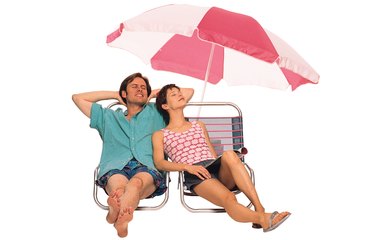 If humidity and dirt have ganged up on your outdoor furniture to produce mildew, fight back with an arsenal of household staples. The furniture will look new in no time, and you may feel like celebrating by getting out of the hot kitchen and into the back yard with family and friends.
Step 1
Tackle mildew spots with a spritz of white distilled vinegar. Try a squirt of diluted vinegar followed by a brisk wipe. If that doesn't work, use full strength vinegar on the mildew, wipe and rinse.
Step 2
Mix ammonia, vinegar, baking soda and one gallon of water in a pail or dishpan for stubborn stains.
Step 3
Dip a cloth in the solution and wipe over furniture. Rinse thoroughly and pat dry with a dry terry towel.
Step 4
Mix 2 tablespoons of ammonia in 1 gallon of water to clean mildewed wicker furniture. Scrub with an old toothbrush to get between the weave of the chair.