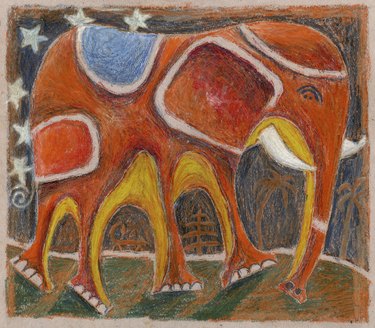 Chalk pastels and oil pastels may not be the first mediums a traditional painter chooses, but their ease of use and vibrant colors make them a viable option for artists of all skill levels. If you want to give them a try, scoop up the next box of chalk or oil pastels you see -- they are versatile, and are much more than crayons for adults.
About Chalk Pastels
Pastel chalk is a century-old art medium created from a mixture of powdered pigment and rock chalk. Artists use pastel chalk to create quick sketches, drawings and pastel paintings. While pastel chalk retains its pigmentation throughout the years, it smears easily -- so spray a fixative spray over your finished drawing or painting to improve its longevity. For a variation in technique, use crushed pastel chalk to make a traditional tempera paint. Add the pigment to an egg yolk and water, and mix thoroughly.
Using Pastel Chalks
Apply chalk to a canvas using either a dry or wet technique. For a dry application, simply draw on the canvas, and use a paper towel, finger or sponge to blend the colors. Follow the grain of the canvas to prevent the white from showing through the pastels. Prepare the canvas before using the wet technique. Apply water with a paintbrush to the surface of the canvas before drawing your subject matter. The canvas should be wet, but not saturated. Make sure the canvas remains wet. Work in small sections with a wet brush to blend the chalk. If desired, use acrylics for an underpainting to add dimension to a landscape or floral still life.
About Oil Pastels
Oil pastels -- created from pigments, wax and oil -- were developed less than a hundred years ago. Artists use oil pastels to create colorful drawings and paintings. Oil pastel art looks similar to works made with oil paints, but oil pastels are not mixable like traditional oil paints. However, you can blend oil pastels on the canvas by using paint thinner. Some artists prefer drawing directly on the canvas with oil pastels, instead of brush painting.
Using Oil Pastels
Either draw directly onto the canvas with the oil pastel, or use a paintbrush dipped in turpentine to pick up the pastel color and paint the pigment onto the canvas. When drawing on the canvas, apply oil paint thinner to thin the oil pastels after you complete your drawing. Drawing with oil pastels requires more pressure than drawing with a pencil, so before drawing on a stretched canvas, place a piece of cardboard or wood behind the canvas to prevent stretching. Oil pastels and oil paints may be used together, but never mix oil pastels with acrylic paints because they dry differently.