Things You'll Need
2 qt. saucepan

Whisk

1 cup ketchup

1/2 cup chili, or hot sauce

1/2 cup packed brown sugar

3 tbsp. cider vinegar

1 tbsp. lemon juice

1 tbsp.Worcestershire sauce

3 tbsp. molasses

1 tbsp. Dijon mustard

1/2 tsp. salt

1/2 tsp. black pepper

1/2 tsp. garlic

1/2 tsp. onion powder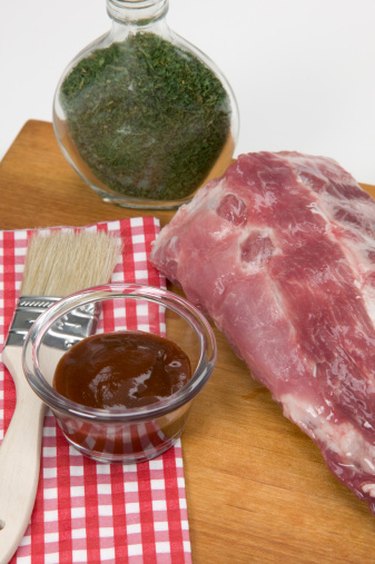 Barbecue sauce is used to flavor food, or as a condiment for dipping or brushing. When cooking on a grill, barbecue sauce is ideal for basting the meat to keep it moist. The base of a barbecue sauce is often tomato, but the other ingredients can vary. Brown sugar is commonly added to barbecue sauce because it gives it a sweeter taste and thickens it.
Step 1
Combine the ketchup, hot sauce, brown sugar, vinegar, lemon juice, Worcestershire sauce, molasses, Dijon mustard, salt, black pepper, garlic and onion in a 2 qt. saucepan. Use a whisk to mix the ingredients so they are blended together.
Step 2
Heat the contents in the saucepan on "medium-high" heat. Stir the contents of the pot periodically with a whisk.
Step 3
Bring the contents of the pot to a boil. Reduce the heat to low and allow the contents of the pot to simmer for 10 minutes.
Tip
Serve your BBQ sauce hot off the stove, or allow it to cool and store it in the refrigerator in a sealed container.
If your sauce is too thin, thicken it by adding either molasses, honey or cornstarch. Add a 1/2 tsp. at a time and stir. Keep adding your thickener a 1/2 tsp. at a time, stirring after each addition until your sauce reaches the desired consistency.