Things You'll Need
Computer with minimum graphics capability

Vector-based software, such as Adobe Illustrator, Corel Draw, Macromedia Freehand or Inkscape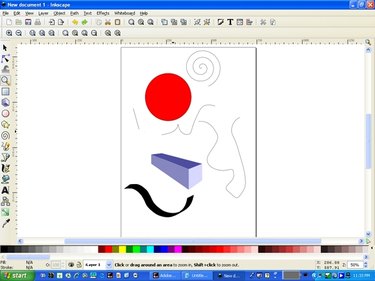 Vector files are a type of computer graphics that can be created from scratch by an artist. You use drawing tools, lettering and effects filters to create image and text documents, ranging from designs and illustrations to page layouts, brochures and pamphlets. To get started, you will need a software program designed to create and manipulate vector files.The commercially available programs are well-designed and have amazing capabilities, but they are also very expensive. We've chosen to spotlight an open-source (freeware) program that has great functionality and can used as a tool to learn all the concepts of vector art.
Step 1
Follow the link in the Resources section to download Inkscape, an open-source freeware vector-imaging program. At the top of the home page, click on "Download Now" with the green arrow next to it. Then click "Run" to have the program installed on your computer. An installation wizard takes you through a few steps; just click "OK" or "Next" if you wish to continue installation. It's usually OK to install the software into the default folder it chooses (in Progam files/Inkscape). After installation, select "Open Program" to begin.
Step 2
Locate the Elipse tool in the toolbar at the left of the screen. Click on it, then place your cursor in the document to draw an elipse.(Hovering over the tool's icon with your cursor will display a note explaining the tool's function, as pictured here.)
Step 3
Try drawing a star with the tool below the elipse. (You can select a fill color for your shapes by clicking on the color swatches at the bottom of the artboard.)
Step 4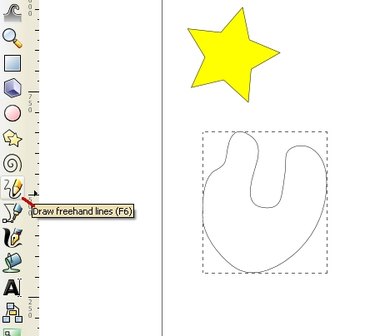 Skip past the spiral tool and try out the freehand line tool. (It has a pencil-and-line icon.) Use it to draw a completely enclosed shape. Vector graphic art is composed of lines, shapes, colors, text letters and various effects. Vector images can be scaled to any size without losing resolution or becoming jagged, like the raster-based images (jpeg, bitmap, gif, etc.) used to display photographic images.
Step 5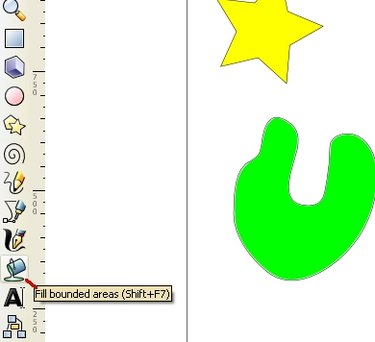 Skip down to the paint-bucket icon and click inside the closed shape you just drew with the pencil. Your shape will be filled with a color. Click on a color swatch at the bottom of the artboard to change the fill color.
Step 6
Experiment freely with the tools to get an idea of what they do. Then go back to the Inkscape homepage and look for the link to "Tutorials" (as shown in the screenshot pictured here). The tutorials will help you get started learning to draw and create vector art files of your own.