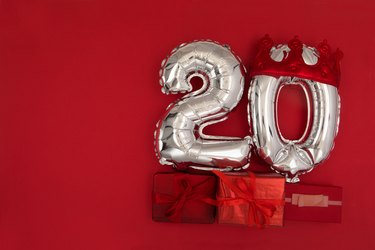 Congratulations on making it to your 20th anniversary! This is one of the big milestone anniversaries you'll celebrate. Make it a truly special one for you and your spouse. Here are a few tips on celebrating your 20th anniversary.
Take a Trip for Your Anniversary Celebration
Plan a trip or even a long overdue vacation for your anniversary celebration. You can book a trip for two on a cruise or travel somewhere exotic, like the Caribbean or Mediterranean. Travel to Europe or take a road trip through the United States. You could also plan a trip to Hong Kong, China, since China is the traditional gift for the twentieth anniversary. Go somewhere you both want to go and do things you both enjoy doing. Relax and have fun!
The Special Chinese 20th Wedding Anniversary Celebration
Plan around a Chinese theme. The traditional 20th anniversary gift is China, which symbolizes the delicateness, beauty, and elegance of your love for one another for the past 20 years. You could add a piece of China to your spouse's China collection or buy a nice Christmas ornament. You could frame a wedding picture of you and your spouse or purchase a tea pot, tea set, or vase. You could also give a gift certificate to a Chinese restaurant or for a Chinese massage.
Give a modern 20th anniversary gift. The modern gift is platinum, which symbolizes the strength and endurance of your twenty year old marriage. You can purchase a platinum grill set, platinum tableware, or platinum cookware. You can also purchase a keepsake box or jewelry for your spouse. If you can't afford actual platinum, you can purchase gifts in white gold, stainless steel or something that is platinum colored.
Give your spouse some flowers for your anniversary celebration. The flower symbolizing the 20th anniversary is the Day Lily, which represents the flirty, playful behavior between you and your spouse. Surprise your spouse with a bouquet of beautiful Day Lilies. You can find Day Lilies in many different colors and shades.
Symbolic Emerald Gemstone Wedding Anniversary Celebration
Surprise him or her with an emerald. The gorgeous green gemstone symbolizing the 20th anniversary is the emerald. The color representing the 20th anniversary is emerald green or white. You can buy some emerald jewelry or buy a shirt that is emerald colored. Be creative.
The Intimate Dinner "In" for Just You Two
Plan a dinner for two at home. Order Chinese food and have it delivered. Set up Chinese decorations such as Chinese lanterns and China plates and cups. Enjoy your time together and finish up dinner with fortune cookies.
Celebrate With A Night Out on the Town
Go to a concert or movie. Purchase tickets ahead of time if you plan on going to a concert, ballet, local play or Broadway show. You can purchase tickets for a movie or other entertainment venues online or at the box office.
Confess the Depth of Your Love
Celebrate your love for one another. You have been married for 20 years and have learned a lot about each other. Take your spouse in your arms and tell him or her how grateful you are that you met and list some of the good qualities you find in your spouse. He or she will love it.
Tip
You can celebrate your 20th anniversary by traveling, eating out, eating in, or giving gifts. But remember it's not about spending money -- it's all about celebrating 20 years of marriage and just being together for all that time and all the time yet to come.
Warning
Platinum, china, and emeralds can all be very expensive. Don't go into debt buying these pricey gifts. Only buy gifts of any kind if your budget can afford them.