Things You'll Need
Screwdriver

Pliers

Wrenches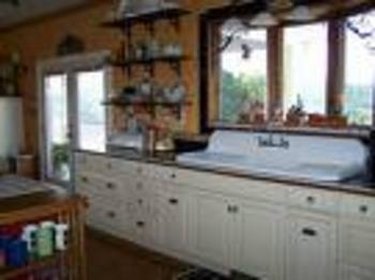 Vintage sinks are coming back in vogue. The old steel ones with the flat bottom, the porcelain type with the backsplash…you can find them at flea markets and antique shops across the country. This article will give you some tips in installing the vintage kitchen sinks.
Step 1
Take a look at your vintage kitchen sink. You may be missing some parts Search online and at antique restoring centers until you have all the necessary hardware
Step 2
Examine the existing plumbing. You may need some specialty items to make your plumbing and the sink compatible.
Step 3
Figure out if you can modify your existing countertop, or if you need to install new. Most vintage sinks look more authentic surrounded by tile and grout than Formica or granite.
Step 4
Set your sink, bolt it down and line up the plumbing. You may have to make some modifications if you are opting for authentic metal pipes. Fasten and tighten everything, and turn on the water to check for leaks.
Step 5
Invest in some replicated antique hardware to finish off your sink. Use a high grade polishing compound to bring up the shine or sparkle, and your vintage sink is ready to use.
Tip
Look for sinks at estate sales or house remodeling sites for the best chance of securing original hardware.
Warning
Many old sinks don't drain like modern ones due to a completely flat bottom, so be prepared to have to 'swoosh' the water toward the drain.